Tilray's (TLRY) share price just gave out its biggest warning sign to investors last week when its share price surged after the CEO, Brendan Kennedy appeared on Cramer's Mad Money and touted the potential for medical marijuana. Speculators loved it and piled in on Wednesday, driving its share price up more than 100% at one point. The stock was halted five times due to triggers of too much gain and ended the day up "only" 38%. Despite being a great cannabis company, we are certain that Tilray's current share price is unsustainable, irrational and doomed to fall. More importantly, the volatility exhibited on Wednesday is an ominous sign for the entire cannabis sector. We still vividly remember that in the weeks before the bitcoin bubble burst, people on the subway and in coffee shops started talking about it. As a result, we also fear that Tilray has done the cannabis market more bad than good.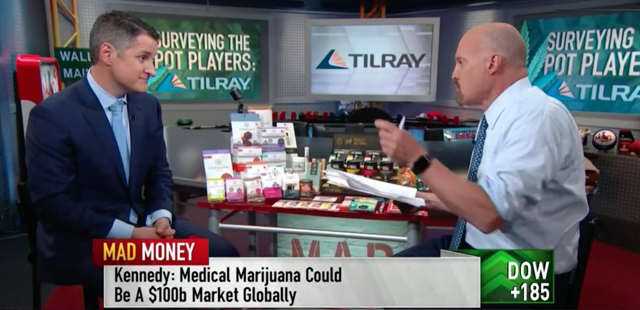 (Source: CNBC)
Irrational Exuberance
Being one of the longest-standing contributors on SA entirely dedicated to providing the best cannabis coverage, we strongly believe in the potential of cannabis in both recreational, medical and other potential fields. However, the development of an industry takes time and anything that rises too fast and too much will only lead to a crash that might take a long time to recover.
Below is the share price chart for Tilray on Wednesday. The stock closed around $155 the day before and at some point, it reached $300 during the day, almost doubling in just one day. However, after one of the halts was lifted, the stock crashed down to below $155, essentially wiping out the entire gain in a matter of minutes. The trading of this stock is so volatile that every share price tick on the screen between seconds is a movement of 3-5%.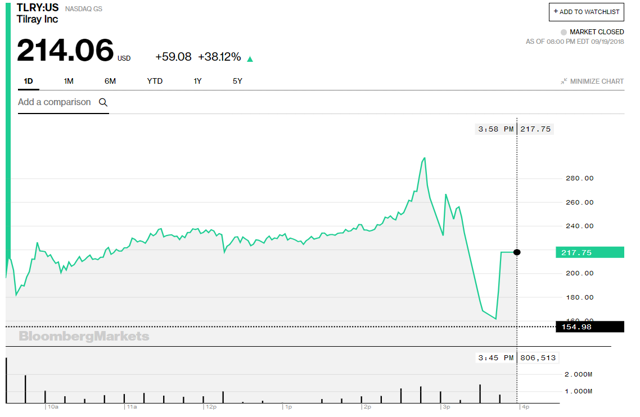 When is the last time that we saw this type of trading in the public markets? We cannot help but think back to the crypto bubble that has been slowly bursting during 2018. We don't believe cannabis is bitcoin because the market is real and tangible, and there is a clear path to reach that market through legalization. However, we believe the Tilray stock has become a tool for speculators and manipulators which is ultimately harmful to the sector as a whole. If a stock could move 200% (up and down 100%) in a single trading day, you know there is absolutely nothing normal about this stock.
Tilray is Good, But Not $300 Good
We liked Tilray very much when we first covered the stock after its IPO in "Tilray: The IPO That Checks All The Boxes". Back then, we thought the stock was likely overbought given the share structure and enthusiasm around the first-ever cannabis stock to IPO on the Nasdaq. However, the stock has since risen to over 10x the IPO price of $17.00 which is totally beyond our comprehension. We think there are a couple of things we should look at to see that Tilray is trading on hype rather than any fundamental factors.
Share Structure
After the IPO there are 16.6 million class 1 shares and 75.1 million class 2 shares outstanding. Besides the 9 million shares that were sold as part of the IPO, all other shares are locked up as they are held by the insiders and affiliates. Privateer owns 82% of the economic interest and 93% of the voting rights in Tilray after the IPO. On Wednesday, the stock traded 32 million shares! That means the entire float of Tilray was traded more than 3 times in a matter of 24 hours. Imagine the entire block of Tilray shares that are available for public trading was exchanged hands three times. One could only imagine who the buyers or sellers are and whether there was anyone looking for anything but a quick profit. The tight share structure won't change until the company does equity offering or insiders start selling shares.
Tilray Financials
We have long been preaching the concept that valuation is inherently useless and inaccurate for cannabis companies given that the market is not yet open for business. However, it does not mean that we should not check the numbers to get a sense of how much growth has been priced into the current share price. At Tilray's closing share price on Wednesday of $214 and 91.7 million shares, Tiraly's market capitalization reached $19.6 billion. For the year of 2017, the company generated revenue of $20 million and incurred a net loss of $7.8 million. We know better than anyone else the potential for cannabis market and we have been an advocate for the sector, however, a $20 billion market capitalization means that a very large chunk of the future growth has been priced into it. There is not that many $20 billion companies out there and it takes most of them years and years of work to get there. Put it another way, Tilray needs to generate billions of revenue just to maintain its share price, not to mention any upside at the current market cap.

(S-1 filing)
Implications for the Cannabis Sector
The biggest concern for us as an observer of the cannabis sector is that when Tilray finally comes crashing down, it will drag down the entire sector. Wednesday is a good example (chart below) as most cannabis stocks traded up significantly during the day only to end up losing most of the gains after Tilray faltered in the final hour of trading. Canopy (CGC), Aurora (OTCQX:ACBFF), and Aphria (OTCQB:APHQF) all ended Wednesday in the red. Cronos (CRON), benefiting from its Nasdaq listing similar to Tilray, saw its share price up more than 30% at one point during Wednesday before settling to a 10% gain.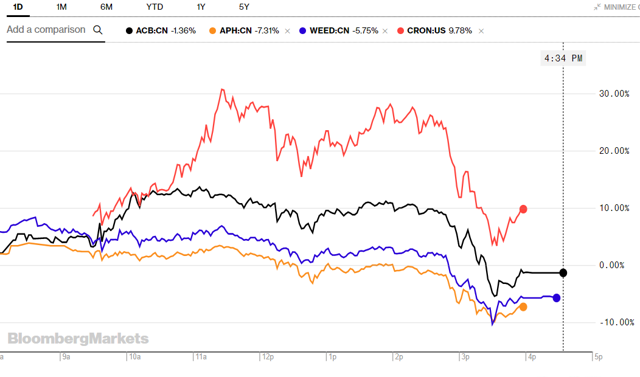 There is so much media exposure on Tilray that the average investors are starting to piling in, which is an incredibly useful sign for predicting when the peak might be near. We are not calling an exact date for the correction to happen, but when the TV programs are talking about Tilray every 5 minutes and your friends and families started asking whether they should buy this stock, you know the end is near. We have seen a similar pattern play for the cryptocurrencies during the last few months of 2017 when bitcoin became the anchor topics for most business websites and TV programs and everyone had a friend or family that invested in bitcoin. At the time people thought the digital coins could only go up and $100,000 is the price target for bitcoin. Now that bitcoin is gone and no one talks about it anymore, the speculators had found their new toy and cannabis is the hottest sector on the main street now.
For companies that have less pronounced public profiles, they have not benefited as much from the Tilray's meteoric rise. However, when the Tilray bubble bursts, investors will likely punish all stocks and more importantly, capital flow into the sector could be temporarily impacted. Companies like Hexo (OTCPK:HYYDF) and CannTrust (OTC:CNTTF) could be seriously damaged if the sector becomes tainted with words like "bubble" and "hype". We think the Tilray saga needs to end and the sooner the better. A healthy appreciation of share prices is more helpful to the long-term growth of the cannabis sector rather than the speculative movements we are seeing out of Tilray right now. The wild swings is an ominous sign that the sector has reached the level of mania that was last seen in crypto and a correction is long overdue at this point. For more details about our views of the cannabis market and a potential correction, see our recent article "Are We Heading Into Another Meltdown For Pot Stocks?"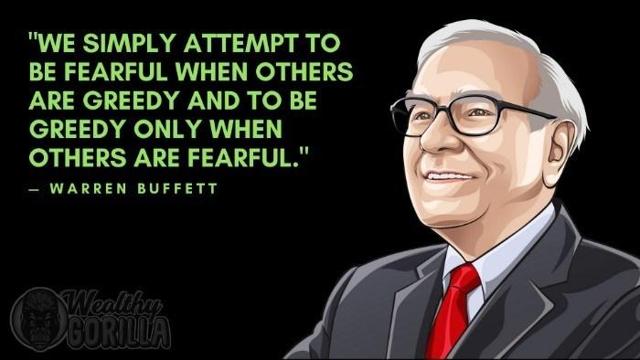 `
Author's Note: "Follow us" to receive our latest publications in the sector. We also publish a widely read Weekly Cannabis Report, which is your best way to stay informed on the cannabis sector.
Disclosure: I/we have no positions in any stocks mentioned, and no plans to initiate any positions within the next 72 hours.
I wrote this article myself, and it expresses my own opinions. I am not receiving compensation for it (other than from Seeking Alpha). I have no business relationship with any company whose stock is mentioned in this article.
Editor's Note: This article discusses one or more securities that do not trade on a major U.S. exchange. Please be aware of the risks associated with these stocks.
Related Posts: