Over the last three trading sessions, multiple insiders have been following CEO John Flannery by buying General Electric's (NYSE:GE) beaten down shares around the $18 level. Yesterday's after-hours announcement that two more insiders bought GE at a six-year low is yet another positive sign that many inside the company feel it is undervalued.
For those of you new to investing, a Form 4 is a SEC document that reflects insider transactions within a security. When insiders believe a stock is undervalued, they will step into the market and buy the shares. Here are the Form 4s filed for yesterday. The first one is by Vice President Jan Hauser who purchased 55,000 shares for $18.21 or just over $1M. They were bought at the close on Friday at the low for the day.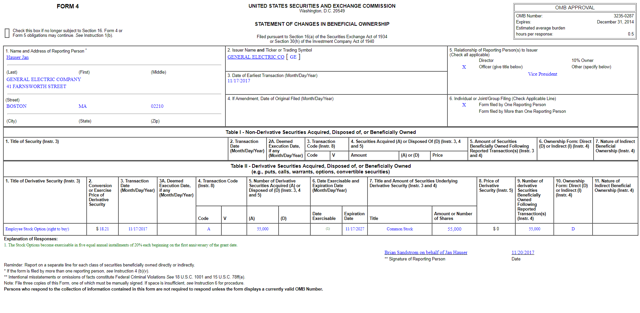 The second form was filed by Francisco D'Souza, co-founder of Cognizant and a director at GE. His shares were purchased yesterday in a retest of the $18 level at $17.94. He bought 55,000 shares for $986,700.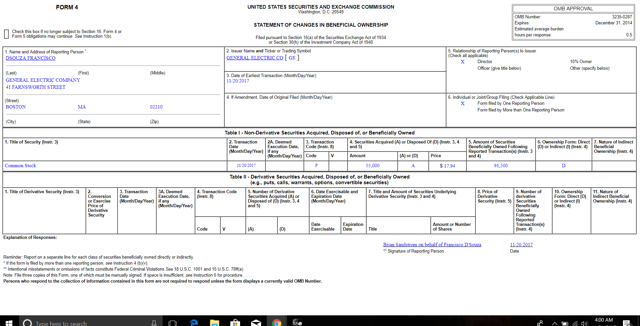 Should You Follow These Insiders and Buy?
I look forward to the comments from readers about these additional insider buys. Some will say yes this is an excellent time as the company is trading at lows not seen since 2011; others will say it is just a drop in the bucket, it means nothing and there is more downside to come. No matter what your view, there will be another investor to disagree, this is what makes a market.
GE being sued over Fukishima
Yesterday I woke up to Seeking alpha breakfast news and saw that GE is in a $500M lawsuit over Fukishima and the accident caused by the terrible earthquake and tsunami that caused so much devastation years ago in Japan. I would not sell any shares because of this event. This is only my opinion, which means very little in the world of investing.
Whatever the outcome, it will take years in court and a $500M lawsuit is peanuts in the scheme of things. The company has already lost nearly half of its market value this year.
Catch-up trade?
There is no doubt that GE is the "dog of the Dow" this year, but that could soon be about to change. The divergence in the charts is massive, which leads me to believe in a catch up trade or reversion trade to the mean.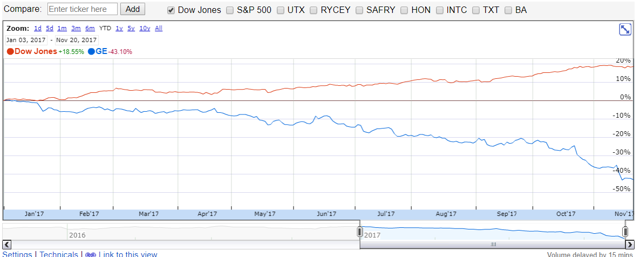 Source: Google Finance
Interested investors can see the divergence between GE and the Dow Jones average showing nearly 60% divergence. In my opinion, that will have to reverse and I don't see the economy falling off a cliff with tax reform in the Senate.
Time for a year-end rally or continued tax selling?
Many important questions here that will be answered over time. From the chart above one could easily see the potential for a reversion rally. The next few weeks will be very interesting as CEO Flannery cleans house and rallies the troops around a better future.
There will likely be more tax harvesting and there could be some further pressure to the downside. I remain convicted that any weakness from this level is a clear opportunity for large gains going forward. Sentiment can change in an instant and I believe that we will soon hear of other titans taking a big position in GE very near this level.
This will be a trough year for earnings so it will take some patience, however I believe in six to 18 months, investors that are buying today will be well rewarded for taking on the risk.
50% of GE board leaving
GE is replacing half of its board and going from 18 directors to 12. This is welcome news to me as an over bloated board is not in the best interest of shareholders. Cramer recently said that they all belong on the wall of shame and I, for one, totally agree. The push is to have people in there that have digital experience to drive the company forward. While the market is not currently appreciating Flannery's moves, it is clearly the right thing for the company.
Retesting last weeks $17.47 low
Today's trading activity will be interesting as the stock broke back through the $18 level yesterday. Will these recent insider buys give investors more confidence, or will Mr. Market and the fear trade take hold of investors sending the stock lower? If yesterday's low holds it could be off to the races, the market will be the judge.
I recently wrote an article about Flannery buying $1M of stock last Friday. I received over 110 comments with all types of price targets and ideas. I appreciate all of the feedback and viewpoints as it is a good barometer of sentiment. One thing I can share with you is sentiment is pretty bad and many are expecting lower prices. These are some of the signs I look for when buying a stock in capitulation.
Conclusion
Over the last three trading sessions, multiple insiders are buying significant amounts of GE stock near and around the $18 level. I look for more insider buys as the stock tests the lows of last Tuesday. I do not know if $17.47 will hold, but I like the stock long term and will be buying any type of capitulation from here.
As always, investors should do their own homework and have an exit strategy in place before making any trade.
Disclosure: I am/we are long GE, LYG.
I wrote this article myself, and it expresses my own opinions. I am not receiving compensation for it (other than from Seeking Alpha). I have no business relationship with any company whose stock is mentioned in this article.