2017 was another interesting year for energy, as evidenced by the recent extension of OPEC production cuts, the challenges created by changes in political policy, technology, and the economy – the list goes on.
The question that's on everyone's mind is: What lies ahead for this sector in 2018?
Jennifer Warren has written about the energy industry on Seeking Alpha since 2013. Her areas of expertise include energy trends – their economic and geopolitical implications – and resource sustainability issues. Other interests include shale oil and natural gas, climate change, green and efficient infrastructure, China, India, and the energy-water nexus.
Jennifer recently shared her thoughts with Senior Editor Michelle Carini on what to expect in 2018:
MC: What are your thoughts about the outcome of the most recent OPEC meeting, where an agreement was reached to extend oil production cuts through the end of 2018?
JW: It isn't that surprising that OPEC wishes to maintain price stability by continuing to hold approximately 1.8 million barrels per day off the market. If prices fall too low from another market share push, all producers suffer; for OPEC, this would lead to further austerity for national budgets and political unrest. It's really the only course of action until there is greater certainty of demand's ability to absorb any potential oversupply.
OPEC is playing its role of managing the oil market. With Nigeria and Libya now agreeing to production quotas as well, any supply or demand-side shocks or geopolitical events will increase volatility, owing to less slack. Historically, from 1982-2014, OPEC policy was one of "official production quotas with member allocations." That ceded to the market share quest from 2015-16. And now, 2017 and 2018 are back to the traditional policy. Of course, for the Kingdom, the Saudi Aramco listing matters too.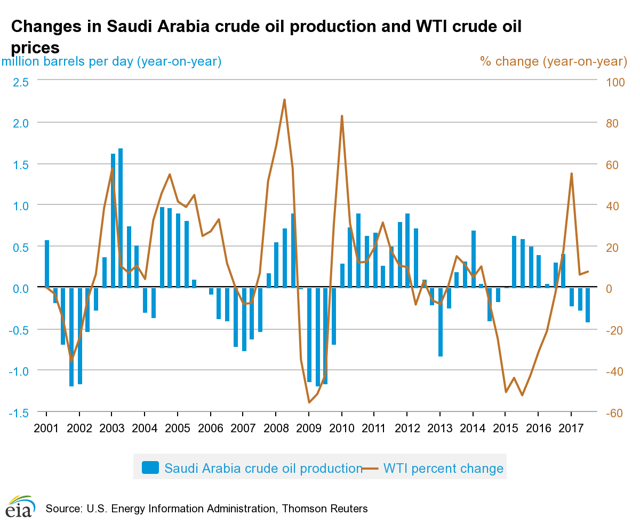 The Wall Street Journal recently reported that:
Organization of the Petroleum Exporting Countries said its crude production fell by about 133,500 barrels a day in November to 32.45 million barrels a day.
According to OPEC, they produced 30.32 million b/din 2014; 31.5 in 2015; and 32.47 in 2016 (averaged, as Q4 was 33.14).
Russia needs prices to be higher, so they have agreed to curtail as well. They are correct in placing a caveat of reassessing in June. If prices continue to rise, U.S. producers might (will likely) increase production and further alter exports and imports.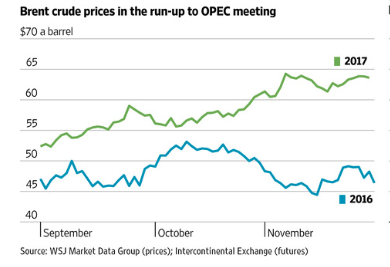 MC: A number of analysts are predicting that the price of oil will retain its strength going forward, at least through the first half of 2018. Do you agree or disagree?
JW: Generally, I agree that price strength appears to be the trend given the outlook for decent global demand and attempts to tighten supply. Any unexpected shocks on the demand side would soften that position. However, "[U.S.] production is expected to grow by 610,000 barrels day this year and 1.05 million barrels a day in 2018-an increase of 180,000 barrels a day," according to OPEC. The U.S. Energy Information Administration projects total U.S. crude oil production averaging 9.2 million b/d for 2017 and 10.0 million b/d in 2018. In an October projection, EIA said production will average 9.4 million b/d in the second half of 2017, which was 340,000 b/d more than in the first half of 2017.
Still, geopolitical threats and their potential to add to volatility and supply outages should not be underestimated. The discord between Qatar and the OPEC core countries continues. The Saudi Arabia-Iran battle is as heated as ever. In Venezuela there were only 39 working oil rigs, according to Baker Hughes, the lowest level since 2003. Much of Venezuela's crude is sent to U.S. Gulf Coast refineries. Mexico and Canada might benefit from Venezuela's production declines, and therefore export losses.
In the U.S., I have heard whispers from a source in the oil patch that oil production growth will be at a measured pace. Each U.S. firm is responding to market forces, a much different animal than being quota-bound.
MC: The Trump administration has largely been successful in terms of its energy goals, as evidenced by the approval of the Keystone pipeline, an increase in new areas for energy exploration, the removal of certain rules limiting fracking, etc. What are your thoughts on the effects of President Trump's actions so far in the energy sector?
JW: I think these some of these acts are more symbolic than economically impactful in the longer term. While I'm not an expert on the environmental impacts of some of the regulatory rollbacks, I cannot imagine they are positive (a chart of the proposals can be found here). U.S. oil and gas production is tethered to the market forces of price and global supply and demand. The increase of horizontal drilling and advances in completions has been under way for a decade now. Just because a firm can drill on new lands does not mean it will. I think energy policy is better served using dollars on developing new advances in energy, next generation energy sources, and producing and consuming energy cleaner and more efficiently.
I'm not so sure what revoking the Clean Power Plan will really accomplish. Natural gas is taking share from coal, as are renewables. The economy and those affected need help in adjusting to this new reality and moving forward into new ventures. Many states are still planning for the day when increasing carbon emissions will be costly.
Our policy of late takes two steps forward, one step back. It appears short-sighted and non-strategic. The net result limits change, which is sure to happen. It seems as if other countries have more progressive energy policies than we do. But market forces, competition and public perception have had a greater influence on our energy outlook than policy, fortunately. I want to hear how we are planning for the next five years, the next 20 years.
Oil and gas firms realize that carbon and other emissions are a consideration going forward. For example, The American Petroleum Institute announced a voluntary program to cut methane emissions from oil and gas operations. Oil companies want to boost their images and the clean energy profile of gas for buyers seeking lower carbon sources of electricity. This action was taken despite the administration's attempt to roll back methane regulations. The initiative includes Exxon Mobil's (NYSE:XOM) XTO Energy, Royal Dutch Shell (NYSE:RDS.A)(NYSE:RDS.B), Occidental Petroleum (NYSE:OXY), Pioneer Natural Resources (NYSE:PXD), and 22 others.
I am optimistic that our private sector will find ways to address challenges in spite of policy. Large institutional investors are pushing firms to do better in terms of carbon emissions. By the U.S. leaving the Paris Agreement, a wellspring of momentum has been created for countries, businesses and other stakeholders to double down on the risks posed by climate change, emissions increases, or whatever name one wishes to call it. There is a commitment to carbon pricing across the Americas, including in Canada, Mexico, and numerous Central and South American countries. The U.S. government is being benched on this issue, but U.S. cities, states and businesses are carrying the torch.
French President Macron, in conjunction with the United Nations and World Bank, recently held a summit in Paris where influential investors waged their gambit. He called upon the private sector to do their part in reducing greenhouse gas emissions as part of the "One Planet Summit":
French insurer AXA is pulling $2.8 billion from the coal industry, shedding all investment in oil sands, and no longer insures new projects in either sector.
Dutch lender ING is cutting its exposure to coal power to zero by 2025.
The World Bank said it would no longer finance upstream oil and gas after 2019 and will institute a shadow price of carbon in their calculations going forward.
Businesses are concerned with capital markets and policy uncertainty. Landing on the side of sustainability is becoming more of the norm. As the British Royal Navy ship captain Lord Cutler Beckett in "Pirates Of The Caribbean" famously says: "It's just good business."
The governor of Colorado announced an electric vehicle partnership of eight states at the Summit. Also launched at the Summit was another movement impacting $26 trillion in investment. The Climate Action 100+ is a five-year initiative led by investors to engage with the world's largest corporate greenhouse gas emitters to improve governance on climate change, curb emissions, and strengthen climate-related financial disclosures. We risk brain drain on this issue as the government has reduced funding. Our researchers are looking to France.
As an investor, one cannot ignore what happens to the value of a stock when demand for that stock wanes. It is something to monitor. There is a tension between global energy policies and economic fundamentals (and, by implication, activity in energy) that is weighing on energy now more than ever. This is a fact, and the actions taken by various stakeholders are real. Also a fact is that oil, related liquids and gas are going to be a large part of the globe's energy budget for some number of decades. However, I don't know how this all shakes out in practice — i.e., what kind of decreases occur in demand, its pacing and replacement sources.
MC: Earlier this year, you wrote that "the Permian Basin will keep growing production over the next several years." Do you still believe this to be true for 2018 and beyond?
JW: Yes, many of the intervals and areas in the Basin offer lower cost production. In 2015, Permian shale leader Pioneer Natural Resources' production was approximately 200,000 bpdoe. By year-end 2017, it's closing in at 300,000. They are projecting 1 million bpdoe by 2026. That's considerable growth from the largest Permian producer.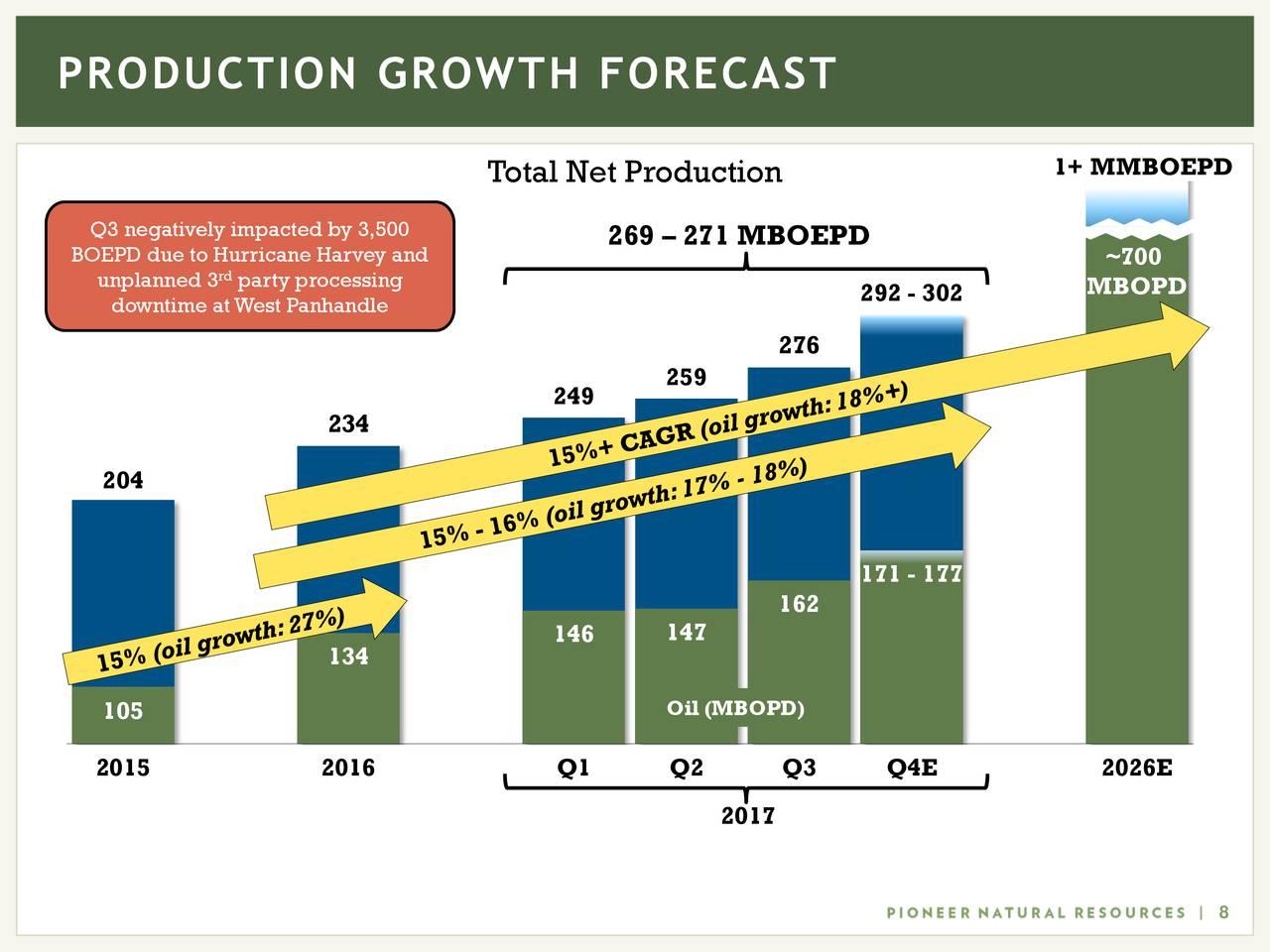 Source: Pioneer, Nov. 20, 2017
Add to that the other top Permian producers — Occidental Petroleum, Chevron (NYSE:CVX), Exxon Mobil, Apache (NYSE:APA), Encana (NYSE:ECA), and Energen (NYSE:EGN) — and the growth in the Permian is set to increase. This includes smaller firms, like RSP Permian (NYSE:RSPP) and Parsley (NYSE:PE), as well.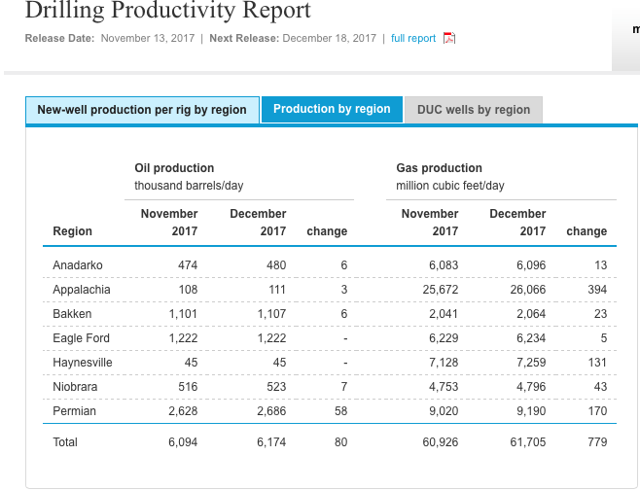 Source: EIA
According to the EIA, "the most significant production growth in the second half of 2017 will be in the Permian region. Production is forecast to grow to 2.6 million b/d in the second half of 2017, a 260,000 b/d increase from the first half of 2017." If, as stated above, U.S. production grows 340,000 b/d more in the second half of 2017, the Permian accounts for 75% of it.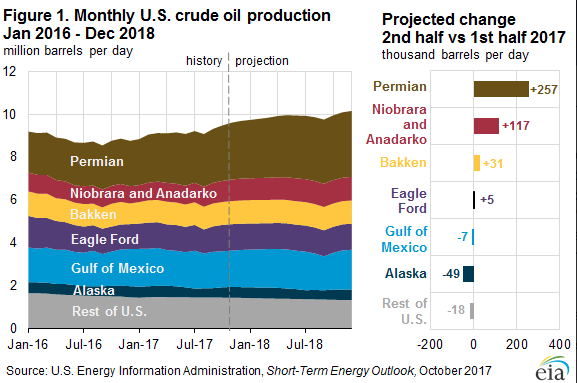 This is a matter of lower cost production at given price points, whether it's $50, $55 or $60.
MC: What's your long-term outlook on energy as a whole for 2018?
JW: I'm a realistic optimist. Global economic activity appears to have tailwinds. The U.S. oil and gas export story is gaining steam. Ironically, our ability to participate in global markets in energy might be something that helps us diplomatically, while we "reassess" the Paris Agreement. As an energy nation, we have everything to gain with our resource abundance. Importantly, countries that are the wealthiest leverage their human capital alongside resource abundance. I think we are doing this in oil and gas, renewables, and new energy forms. The cleaner the oil and gas industry and its consuming counterparts becomes, the better.
Oil and gas feed into the global economy in wide-ranging and diverse ways. In the conventional engine vs. electric vehicle (EV) debate, the EV is said to be better in terms of net emissions right now when a cradle-to-grave analysis is considered. There are many factors about EV adoption, however, which will impact some portion of oil demand's trajectory. There could even be a better liquid fuel alternative further in the future.
Energy investing should be representative of the trends that energy supply and consumption are taking. There are many paths to travel. The hard part is deciding when the long term has arrived and which players to bank on. In my observations of late, financial markets are not great at revealing this. Research supports this. This is why the rise of passive investing is upon us, but active management of a portfolio has a place as well. I ascribe to both, being diversified by investment approach and investments.
Disclosure: I/we have no positions in any stocks mentioned, and no plans to initiate any positions within the next 72 hours.
Related Posts: