The recent euphoria over AMD (NASDAQ:AMD) has been interesting to watch. For long-time bulls, it represents a very profitable victory over the naysayers. I'm always happy to see increased market competition, as consumers stand to benefit from these developments. However, on the stock side of things, I think the love for AMD has gone too far and that Intel (NASDAQ:INTC) represents a much better investment both now and in the future.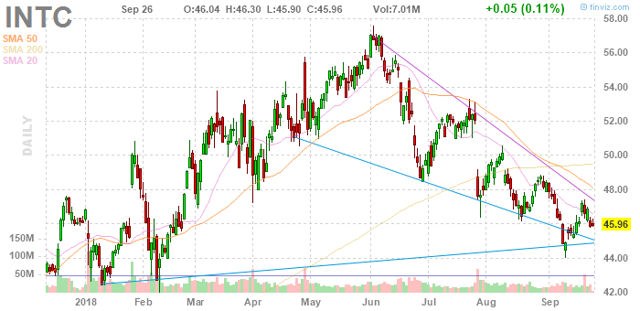 Image from finviz.com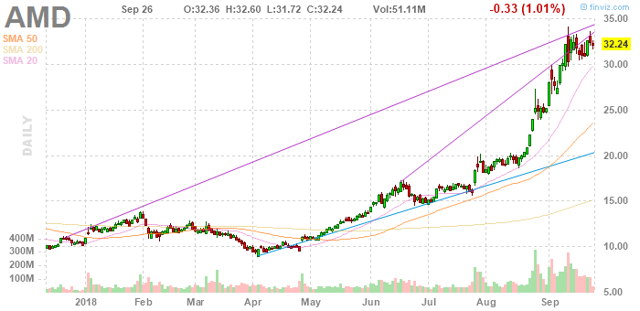 Image from finviz.com
From the charts above, you'd think that Intel was going out of business or that AMD was being acquired! The P/E for Intel is 11, and 69 for AMD. Yikes. Instead of buying at the top of this 300% gain, consider the following:
AMD's Q2 revenue of 1.76B is rather embarrassing compared to Intel's 17B Q2 revenue. They chose to only state their gross margins of 37% on their earnings slides presentation because I'm guessing that they didn't want investors to see that operating margin was only 8.7% (author calculated) for the quarter. Intel, on the other hand, sports a gross margin of 61.4% and an operating margin of 32.5%.
I know that companies are not required to post certain data on earnings slides, and that the information can be fairly easily calculated from the SEC-filed 10-Q, but I always like to look at what companies choose to highlight. I find companies that choose to report weird, non-standard, financial metrics tend to do so because they want to paint a rosier picture than what is really going on with the business.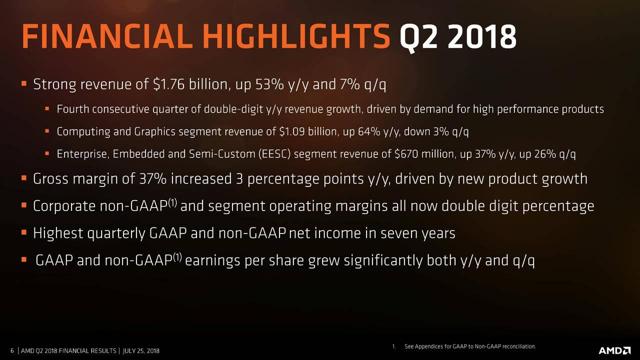 Image from AMD earnings slides presentation 7/25/18
Intel has always enjoyed an advantage over AMD due to its size and financial strength. That advantage is not going away overnight like some analysts would have you believe. AMD may be putting out some good products right now, but it still doesn't materially shake up the market share landscape. In fact, the market share advantage that Intel enjoys has actually appeared to get bigger in the past 6 years, not smaller.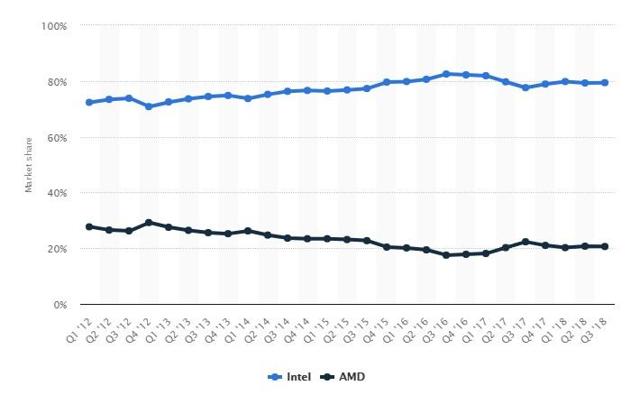 Image from statista.com
AMD launched the popular Ryzen line of processors beginning in the summer of 2017. AMD enjoyed a market share gain of ~4% with the product, but has since lost most of that gain in the quarters following, despite new iterations being released.
Intel's quarterly R&D spending is $3.4B, which is twice AMD's quarterly revenues. With this type of discrepancy in funding, AMD can't afford to stumble on developing competing products.
We will see what effect other products like Epyc will have on market share of data centers, but I'd rather invest my money with the much more successful incumbent in this area.
Dividends And Buybacks
While it's always painful to see companies buy back shares and then have the share price decline further, at least management is implementing a source of capital return to shareholders. Share reduction of 117M shares YTD will help reduce dividend payout and improve earnings growth.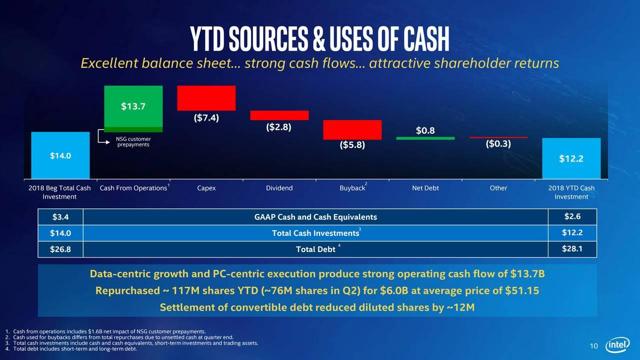 Image from INTC earnings slides presentation 7/25/18
While INTC's 2.64% dividend is not burning a hole in your pocket, it does help fight inflation and offers you some solace in share price slumps such as these. INTC has also shown a consistent history of dividend growth, and we are due for another increase soon. Payout ratio sits at just 29%, so there is plenty of room on the balance sheet for such a move.

Image from Seeking Alpha dividends tab for INTC
Will AMD's Gain Cause INTC Pain?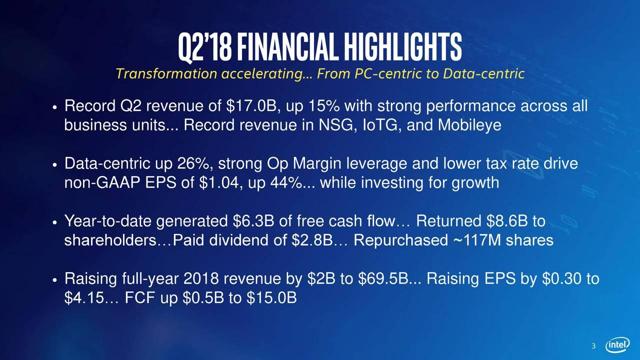 Image from INTC earnings slides presentation 7/25/18
Nope. Intel has actually RAISED its guidance for FY18 despite AMD product launches, global trade war, 10 nm product delays (always expected to be 2019, but still widely touted) and a CEO departure. I'm having a hard time coming up with ways that Intel will see decreased financial performance short of a prolonged recession or physical disaster. Even Qualcomm (NASDAQ:QCOM) fighting with Apple (NASDAQ:AAPL) for the millionth time over stealing trade secrets shouldn't actually affect Intel, as it is not a direct defendant in the litigation.
I'm also not scared for Intel's future prospects when its main competitor has to resort to saying that FCF will be "positive" in guidance statements.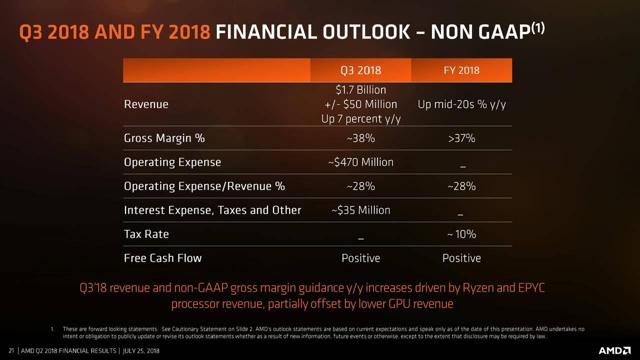 Image from AMD earnings slides presentation 7/25/18
Summary
When you can't come up with a convincing bear case for your hypothetical investment in a stock, that usually signals you that it's time to buy. We don't know what the future will bring for Intel and AMD and their ongoing battle, but we can see that Intel appears undervalued and AMD appears overvalued at this time. I'm not trying to say that money cannot be made with AMD, just that it seems like more of a sure bet to invest in the market leader.
Disclosure: I/we have no positions in any stocks mentioned, but may initiate a long position in INTC over the next 72 hours.
I wrote this article myself, and it expresses my own opinions. I am not receiving compensation for it (other than from Seeking Alpha). I have no business relationship with any company whose stock is mentioned in this article.
Related Posts: