I'm sure that all of you have listened to the famous nursery rhyme, Humpty Dumpty. It became popular as the character of Humpty Dumpty was popularized in the United States by actor George L. Fox (1825–77). The rhyme is one of the best known and most popular in the English language:
Humpty Dumpty sat on a wall,
Humpty Dumpty had a great fall.
All the king's horses and all the king's men
Couldn't put Humpty together again
Today I am going to use the lyrics to set the tone for a Net Lease REIT formerly known as American Realty Capital Properties (once ARCP) and now referred to as VEREIT (VER).
Back in October 2014 (over three years ago) I described American Realty Capital Properties as follows:
There are many questions unanswered and while ARCP has stated that there was no intent to overstate AFFO, I have ZERO faith in the company's financials. I have frequently voiced my concern with companies that grow massively and subject themselves to integration risk and perhaps ARCP was moving way to fast to slow down and smell the roses."
Of course, I am referring to the infamous fall of the Net Lease REIT version of Humpty Dumpty. In that same article I explained,
Dividends are the tangible proof of safety and they are the surest confirmation of corporate profitability. My research and eventual investment in ARCP was rooted in chasing dividend yield, but I should have acted more swiftly on my intuition related to ARCP's dividend safety. After all, that's the only way to "sleep well at night. The author liquidated all ARCP shares at $9.57."
That was over three years ago… and since then…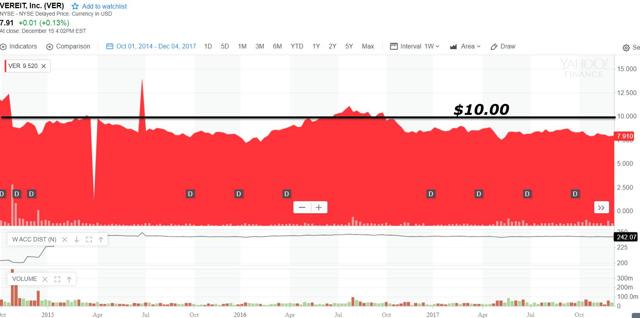 Looking back over the years, one of the biggest lessons that I have learned as an analyst and real estate investor is to always look for signals. Just prior to American Realty Capital's plunge I wrote,
My biggest concern with ARCP has to do with the unusually high yield that also signals that the dividend could be in danger of being reduced. Some have argued that a dividend cut would not hurt ARCP; however, I disagree because if the dividend is lowered, the price will also be lowered, and a price that previously was undervalued no longer represents a good value."
I added, "I'm not investing another nickel in ARCP until I see more clarity (i.e. when the smoke and mirrors disappear)."
In hindsight, I wish I would have downgraded American Realty Capital from a Buy to a Sell; instead, I downgraded shares to a Hold. We all know what happened when Humpty Dumpty fell off the wall…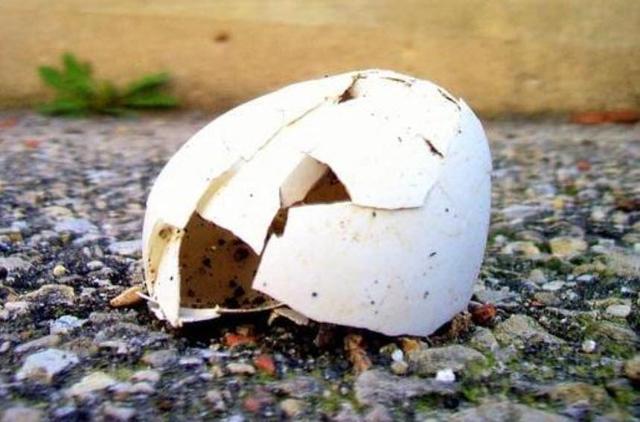 All The King's Horses And All The King's Men
In early 2014, VER (formerly ARCP) completed the acquisition of Cole Real Estate Investments for $11.2 billion, in a move that created the "largest net-lease REIT in the U.S." VER's management team had been pursuing Cole for quite some time, and the marriage was summed up by Forbes writer Maggie McGarth as something like the "Boston Red Sox and New York Yankees joined forces."
VEREIT's, formerly ARCP, chairman Nicholas Schorsch called the deal an "epic transaction" and a "win-win" for all parties. In the game of "size matters," ARCP's CEO boasted that its dividend growth was "stable and secure."
It was apparent during the negotiations (to buy Cole) that Schorsch wanted to create a dominating REIT that could squash any competitor. Accordingly, Schorsch was attempting to build the widest of net lease moats by engineering ARCP in a manner in which David becomes Goliath in record time.
When ARCP acquired Cole (back in February 2014), it purchased a portfolio of assets and also an advisory business that generates substantial fee-based income.
ARCP's private capital business, Cole Capital™, is an alternative broker-dealer with fully integrated teams across external and internal sales, marketing, sales analytics, events, national accounts, due diligence, compliance and shareholder services.
According to Robert Stanger & Co. industry reports, Cole Capital™ is the only non-traded REIT sponsor to rank in the top 3 for the past five years, and has raised just under $1 billion through May (2014).
At the time Cole generated around $140 million after tax (annualized) that translated into a market value of over $2 billion. ARCP booked the Cole Capital deal at $800 million.
A few weeks ago VER announced it was selling Cole Capital to an affiliate of CIM Group. Currently, Cole has more than $7.6 billion in assets under management and manages five public non-listed real estate investment trusts: Cole Credit Property Trust IV, Inc., Cole Credit Property Trust V, Inc., Cole Real Estate Income Strategy (Daily NAV), Inc., Cole Office & Industrial REIT (CCIT II), Inc., and Cole Office & Industrial REIT (CCIT III), Inc.
In connection with the transaction, VER may receive up to $200 million, comprised of $120 million cash paid at closing under the purchase agreement and up to $80 million in fees to be paid under a six-year services agreement based on Cole's future revenues.
The services agreement will, among other things, require VER to provide operational real estate support to Cole for approximately one year. Subject to regulatory approvals and customary closing conditions, the transaction is expected to close at the end of the fourth quarter of 2017 or during the first quarter of 2018.
Wow. Now we know what Cole Capital is really worth, and certainly not $800 million.
But something is better than nothing and this is excellent news for VER investors since it simplifies the REIT's business mode so it can now focus on the real estate operating business. VER's CEO Glenn Rufrano remarked,
The transaction allows us to simplify our core business model and focus on our large, diversified single-tenant real estate portfolio. Cole Capital will have a sponsor in CIM with an institutional foundation and established distribution relationships with wirehouses."
Perhaps VER can use the $120 million in cash and $80 million in earnout to settle the ongoing litigation associated with the accounting irregularities (notice I did not say fraud). Beyond Saving wrote an excellent update on VER's lawsuit,
For purposes of estimating the impact, I will assume that $500 million is the best case scenario. I will assume $1 billion in the worst case, representing almost a quarter of the estimated damages. I do not believe it will be that bad, but I cannot rule it out. And I will take the midpoint of $750 million.

The positive news for VER shareholders is that VER could afford to pay the lump sum immediately using their revolver, which currently has $2.3 billion available."
He adds,
If the settlement is materially under $500 million, I think it is safe to say that VER will shake off the impact quickly. Alternatively, if it is materially over $1 billion, I think it will have a very significant impact on the share price."
I'm not an attorney and I am in no position to speculate on the settlement costs related to VER's ongoing lawsuit. However, the sale of Cole Capital provides VER with a chunk of the down payment and most importantly moves VER closer to its ultimate goal of being a direct peer to Realty Income (O), National Retail Properties (NNN), and STORE Capital (STOR).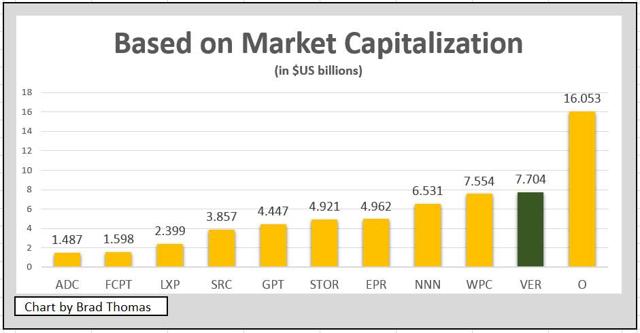 The Business Model
VEREIT is a Net Lease REIT, which means the company owns free-standing buildings (4,100 properties and 92 million square feet) leased to a variety of retail, restaurant, office, and industrial tenants. VER is an internally-managed full service net-lease REIT with a long-term net-lease structure that provides stable and predictable rent stream payments. The diverse portfolio is across sectors, geographies and tenants.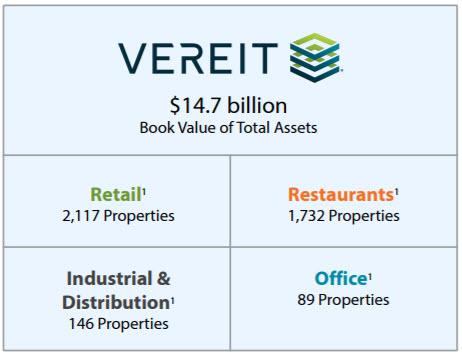 Since April 2015, VER has successfully implemented its business plan, enhanced its portfolio, de-levered its balance sheet and achieved investment-grade ratings: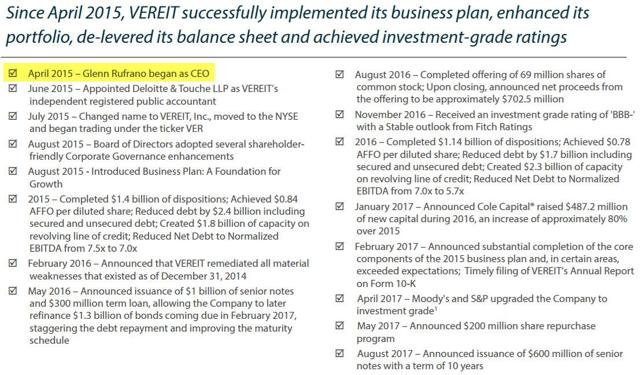 As illustrated below VER has a diversified portfolio that includes retail (40.6%), restaurants (22.9%), industrial (16.2%), and office (20.3%).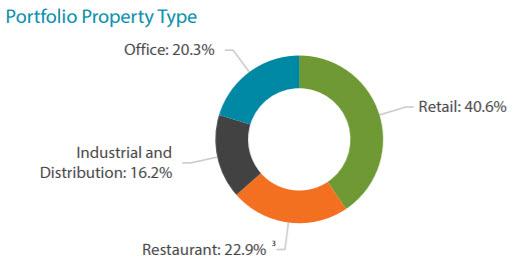 As you can see below, VER is diversified geographically: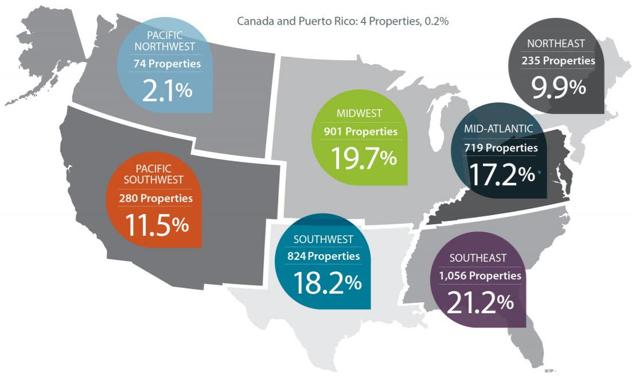 Focusing on VER's retail mix, the exposure is dominated by off price and necessity shopping of which 50% is investment grade. In many of these core categories, VER sees "reasonable expansion plans in 2017 and beyond."
Discount is comprised of 7.9%, pharmacy 7.2%, grocer 5.1%, home and garden 4.5% and convenience 2.5%. Approximately 67% of the retail revenue is derived from tenants that are public companies providing increased transparency into their operations and finances.

50 tenants individually represent 0.5% or greater of ARI, comprising 60.6% of the total portfolio; the remaining 613 tenants comprise 39.4% of the portfolio. 27 of the 50 tenants are investment-grade rated and 32 of the 50 tenants are public companies.
VER's restaurant portfolio consists of single-tenant quick service, casual and family dining properties. Creditworthy tenants, including franchisors, operating strong national and regional brands.

VER's industrial property types include single-tenant distribution and warehouse facilities with creditworthy tenants. Most are mission-critical and strategic locations with close proximity to ports, railways, major freeways and/or interstate highways.

VER's office property types include primarily single-tenant corporate headquarters and business operations with creditworthy tenants with strategic location for corporate operations.

The Improving Balance Sheet
In Q3-17, VER continues to strengthen its balance sheet and maturity schedule. In August, VER issued $600 million of 3.95% 10-year bonds at an issue price of 99.33% of par value. Proceeds were used to redeem the $500 million term loan with the remaining proceeds used to repay additional secured debt. This further laddered VER's maturity schedule and extended the duration.

At Q3-17, VER had full capacity under its credit facility of $2.3 billion. In addition, the company had $54.4 million of cash and essentially no floating rate debt.
During the quarter, VER reduced secured debt by $262 million with only $17.8 million coming due for the remainder of the year. Secured debt coming due is expected to eventually be termed out as unsecured debt.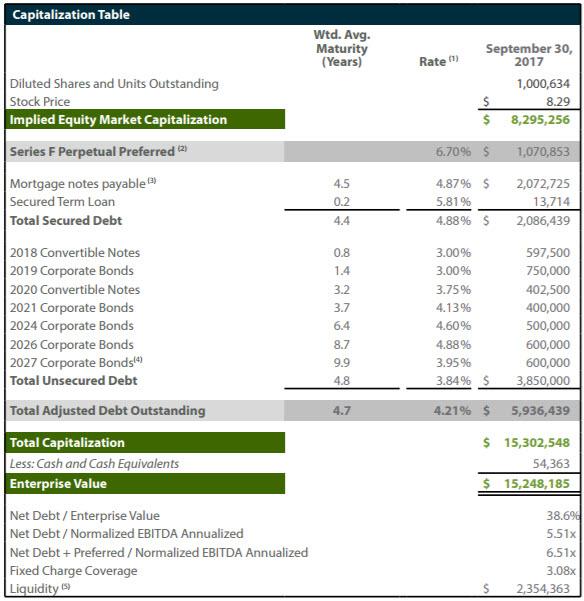 VER's net debt to normalized EBITDA was 5.5x, up slightly from 5.4x. The company's fixed charge coverage ratio remains healthy at 3.1x and net debt to gross real estate investment ratio was 38%. VER's encumbered asset ratio was 72% and the weighted average duration of debt increased to 4.7 years.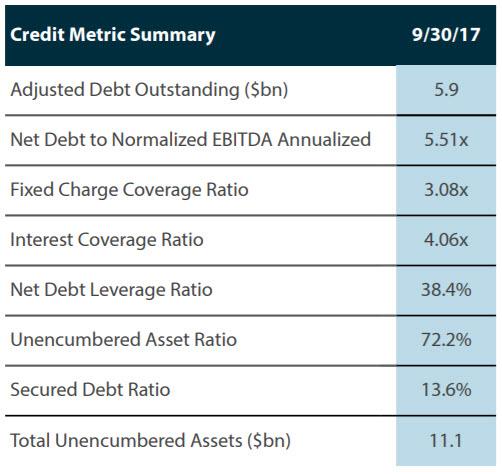 Humpty Dumpty Is Back On The Wall
VER's acquisitions and dispositions are on track to meet the guidance range targets of $450 million to $600 million. The portfolio is performing well with occupancy increasing to 99% and the investment grade balance sheet remains liquid with the well laddered maturity schedule.
Given this performance, VER has increased its AFFO guidance from $0.71 to $0.73 to $0.73 to $0.74 per share with Cole's contribution approximating $0.035.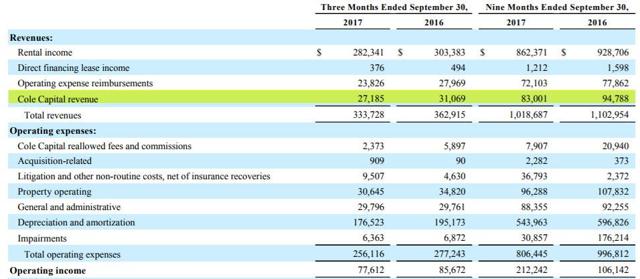 On the recent earnings call VER said it "will continue to sell Red Lobster next year, and part of the guidance next year will be an indication of that because ultimately we want to get that down to 5%."
Rufrano said that "Office was another major disposition item. We were over 22% in the beginning of the year and as you can see we're down to 20.3%. We want to get that between 15% and 20%."
One analyst asked about VER's "strategic priorities" in future years and Rufrano explained,
"…we provide capital to corporate America and the trades for that capital is their housing long-term that they can secure because they're running their business out of it.

It makes a lot of sense for corporate America to sell their housing, they have — should have a better cost of capital internally, freeze of capital to run their business. That's what we do.

That's what we will do for the long-term. And that business model we believe can be executed most efficiently, if it's large and diversified. It gets the large diversification of the portfolio there's couple of things should continue to help us with our cost of capital. You can see how our debt rates have come down to 100 basis points in one year in large price because of our portfolio.

The other important product of the large diversified portfolio is to provide optionality on sourcing. We don't want to be in the position where we are only providing capital to corporate partners in anyone property type. We like to provide capital to the variety of property types so that we can search for opportunities."
Now let's see how VER stacks up against the peers: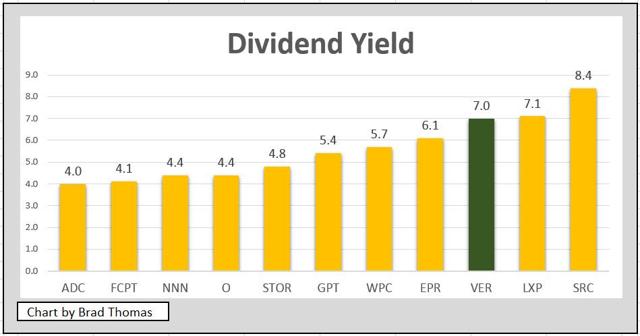 As you can see, VER's dividend yield is 7%. Let's examine the dividend history: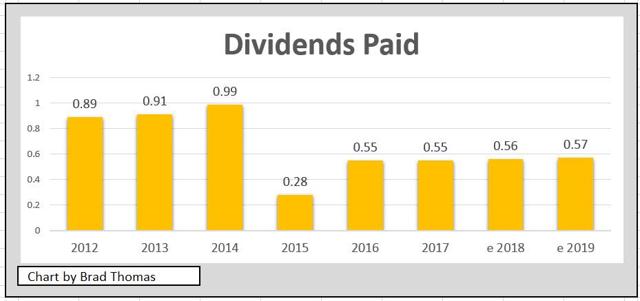 As you can see (above), VER suspended the dividend and now the company pays a regular common dividend of $.55 per share (annualized). Now let's examine the AFFO per share history: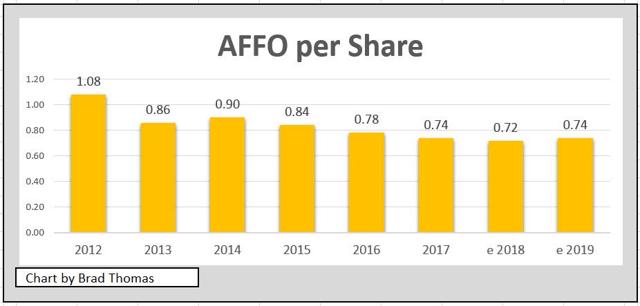 As you can see, the company has maintained a stable run rate, while recycling capital, de-leveraging, and selling non-core properties. VER has also reduced its Payout Ratio considerably.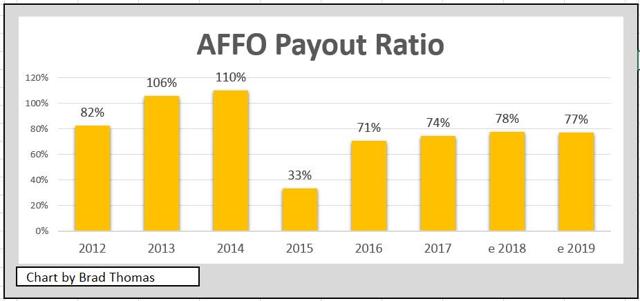 Now let's examine VER's AFFO AFFO/share growth compared with the peers:

As you can see, VER still has some "wood to chop" before the company's earnings growth moves in line with O and NNN. However, the removal of Cole Capital should create more clarity, with the only lingering overhang being the litigation settlement.
I'll give VER's management team credit for getting Humpty Dumpty back on the wall… I have met with Rufrano on a number of occasions and I have found him to be a highly productive CEO.
In my opinion, now is the time to own VEREIT. The company sports a 7% dividend yield and as soon as the legal issues are over, the multiple should begin to trade closer to 13-14x P/AFFO.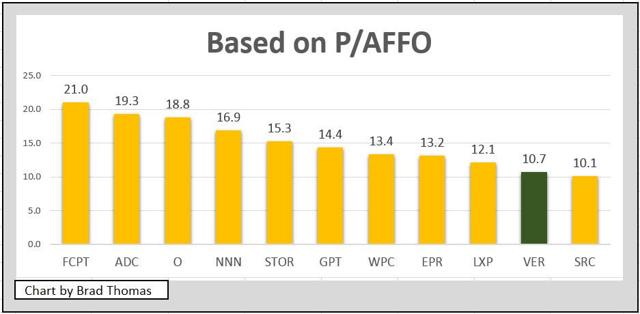 In closing, I am maintaining a Buy on VER shares with a forecasted two-year hold of ~21.5% per year (I am more confident with the 7% yield than I am with the 13% price appreciation).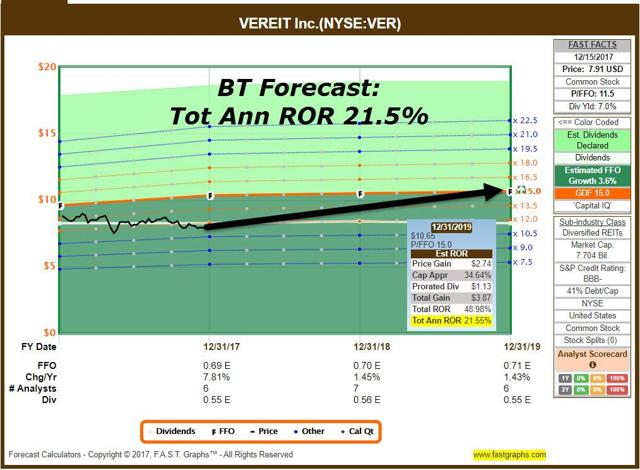 We will be putting together a stocking stuffer portfolio for marketplace members… for more information…
Subscribe Today
Rubicon Associates is now part of The Intelligent REIT Investor and he contributed to this article. He is one of the best REIT analysts with a focus on debt and preferred issues.
The Intelligent REIT Investor is the #1 REIT Research site. We publish exclusive content on over 100 REITs, and our Durable Income Portfolio has returned over 12% YTD. We recently announced that the Small Cap REIT Portfolio has returned over 20% YTD. There is absolutely no reason to chase yield… let us do all of the heavy-lifting so you can "sleep well at night."
Note: Brad Thomas is a Wall Street writer, and that means he is not always right with his predictions or recommendations. That also applies to his grammar. Please excuse any typos, and be assured that he will do his best to correct any errors, if they are overlooked.
Finally, this article is free, and the sole purpose for writing it is to assist with research, while also providing a forum for second-level thinking. If you have not followed him, please take five seconds and click his name above (top of the page).
REITs mentioned: ADC, SRC, EPR, LXP, STOR, GPT, FCPT, NNN, O, and WPC.
Sources: F.A.S.T. Graphs and VER Investor Presentation.
Disclosure: I am/we are long APTS, ARI, BRX, BXMT, CCI, CHCT, CIO, CLDT, CONE, CORR, CUBE, CXP, DLR, DOC, EPR, EXR, FPI, FRT, GMRE, GPT, HASI, HTA, IRET, IRM, JCAP, KIM, LADR, LAND, LMRK, LTC, MNR, NXRT, O, OHI, OUT, PEB, PEI, PK, QTS, REG, RHP, ROIC, SKT, SPG, STAG, STOR, STWD, TCO, UBA, UNIT, VER, VTR, WPC.
I wrote this article myself, and it expresses my own opinions. I am not receiving compensation for it (other than from Seeking Alpha). I have no business relationship with any company whose stock is mentioned in this article.
Related Posts: