Article Thesis
Exxon Mobil (XOM) is trading at a low valuation despite oil prices being well above the lows formed over the last couple of years. The company offers a juicy dividend yield and the growth outlook for the oil giant is positive.
Investors are poised to see compelling returns going forward, as production growth, rising cash flows, and dividend increases will lead to ample total returns.
Exxon Mobil's share price has been battered over the last couple of months, despite the fact that the fundamental picture for oil & gas companies remains positive: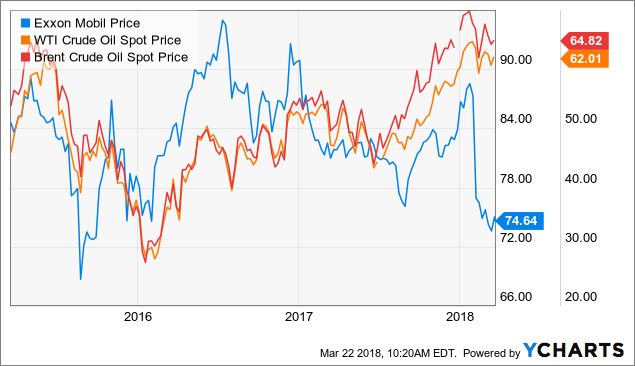 Shares of Exxon Mobil trade at $74 right now, down double digits year to date. WTI and Brent, however, trade at more than twice the price they traded for at the nadir of the oil price decline.
The most recent share price decline was largely driven by the fact that the market wasn't happy with Exxon Mobil's growth strategy. The company announced a plan to more than double its earnings and cash flows through 2025. This requires heavy investments into new projects, Exxon Mobil will, therefore, increase its capex spending to $30 billion in the 2020s from $24 billion this year.
These growth investments make it less likely that Exxon Mobil will pursue a meaningful reduction of its share count via buybacks in the near future. The market had hoped for such an announcement, the lack thereof made the share price decline.
Aggressive Growth Plan Is A Win In The Long Run
Exxon Mobil will likely not shrink the share count aggressively going forward, a strategy the company has pursued in the past: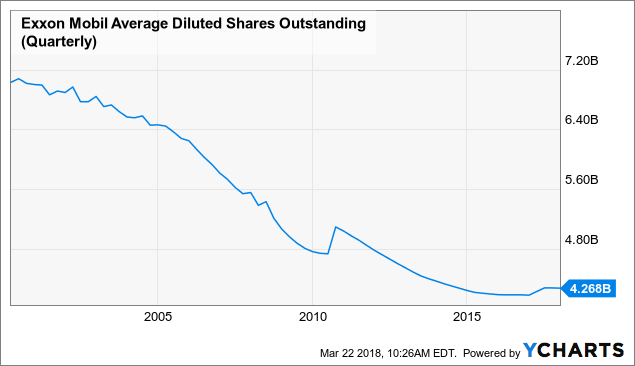 Since 2000, Exxon Mobil's share count has dropped by ~40%, this alone has increased each individual share's portion of the company's earnings and cash flows by 67%.
In that time frame, Exxon Mobil has diverted a huge amount of its cash flows towards buybacks, but production did not grow very much as capital expenditures were not at a very high level. Exxon Mobil has now chosen to pursue another strategy going forward. The growth investments will take years to impact Exxon Mobil's cash flow and earnings statements, due to the long time for new projects to ramp up production.
The market with its short-term view didn't appreciate this strategic shift, despite the fact that long-term oriented investors will benefit a lot if everything works as planned: CEO Woods has stated that production is poised to grow to five million barrels of oil equivalent per day in 2025, which will result in earnings of $31 billion with oil prices remaining at the current level.
In 2017, Exxon Mobil has reported adjusted earnings of $15 billion, thus profits are forecasted to double over the coming seven years. Even if Exxon Mobil does not repurchase any shares during that time period, its EPS would more than double as well. Compared to an approach where Exxon Mobil focuses on buybacks and keeps its profits flat, that looks like a good move: The buyback strategy has made Exxon Mobil's EPS grow by 67% in 17 years since 2000 (all else equal).
More than doubling the company's EPS through 2025 thanks to heavy investments into shale projects, refining, and deepwater projects looks like a compelling growth plan. Higher profitability will also lead to rising cash flows for Exxon Mobil:

(source: Exxon Mobil 10-K)
Exxon Mobil produced operating cash flows of $30 billion in 2017, with net profits increasing by $16 billion, the company's cash generation is poised to hit $46 billion annually by the mid-2020s. Even without asset sales and when we adjust for higher capex spending, Exxon Mobil's free cash flows are poised to hit $16 billion plus by 2025.
In 2017, Exxon Mobil produced $30 billion of operating cash flows and spent $23 billion on capex, thus producing free cash flows (before asset sales) of just $7 billion. Exxon Mobil is, therefore, on track to more than double its free cash flows over the coming years, despite the fact that the amount of money the company invests will increase significantly.
Exxon Mobil Is An Attractive Income Investment And Its Valuation Has Come Down Significantly
Right now Exxon Mobil's dividend yield stands at 4.2%: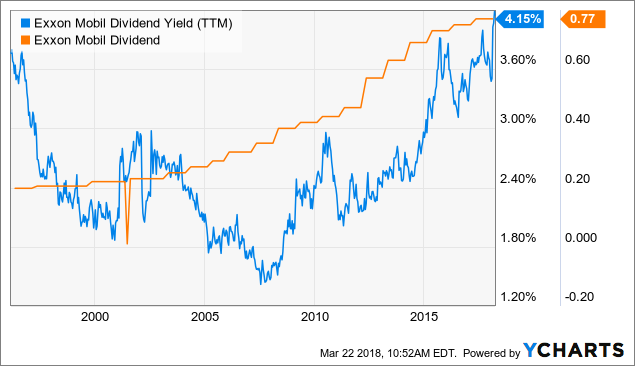 Exxon Mobil's dividend yield hasn't been this high since Exxon merged with Mobil in 1999.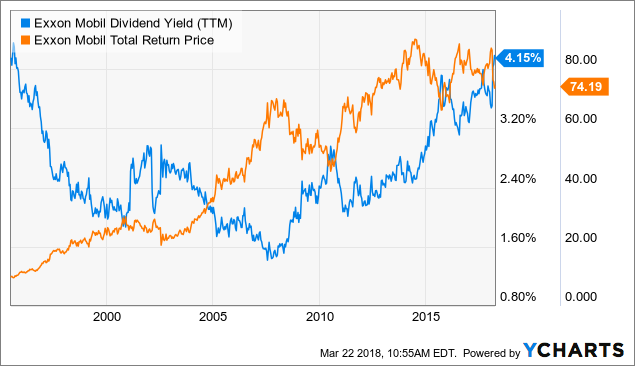 The last time Exxon Mobil's dividend yield was as high as it is right now was in July 1995. The company's shares have returned 656% since, which equals an annual total return of 9.2%. The S&P 500 index has returned 640% since, thus Exxon Mobil was the better performer despite being a lower risk investment (Exxon Mobil's beta is 0.92).
The last time Exxon Mobil's dividend yield has been this high thus was a good time to buy shares of the company, as its returns outpaced those of the broad market whilst being less volatile at the same time.
On top of that, Exxon Mobil will likely increase its dividend once again in the foreseeable future: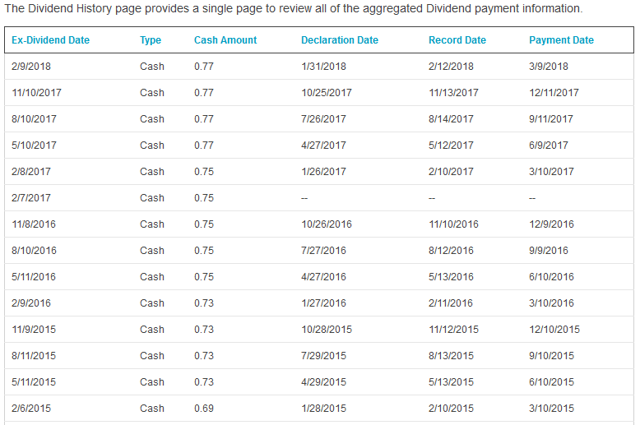 (source: nasdaq.com)
Exxon Mobil usually announces its dividend raise in April, thus investors will likely hear about another hike in about five weeks. Due to significantly higher oil prices (compared to one year ago), which means higher profits and cash flows, there is a good chance of a somewhat bigger dividend increase. Exxon Mobil increased its payout by two cents quarterly for two years in a row, as the oil industry is recovering now, the dividend increase could be bigger this time.
Even with another $0.02 raise, Exxon Mobil's dividend yield would rise to 4.3% though, which is well above twice the broad market's yield of 1.8%.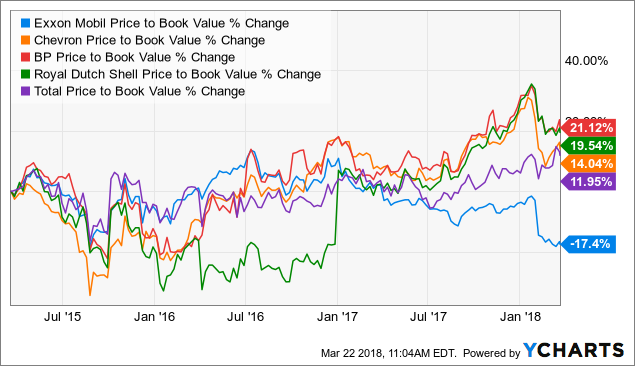 Exxon Mobil's price to book multiple of 1.67 isn't low compared to its peer group, but Exxon Mobil's valuation has declined a lot over the last three years. Exxon Mobil has gotten 17% cheaper, whilst the other oil majors all got 12-21% more expensive.
From a relative valuation standpoint, Exxon Mobil, thus, looks like the right pick right here, as it has gotten a lot cheaper compared to the peer group.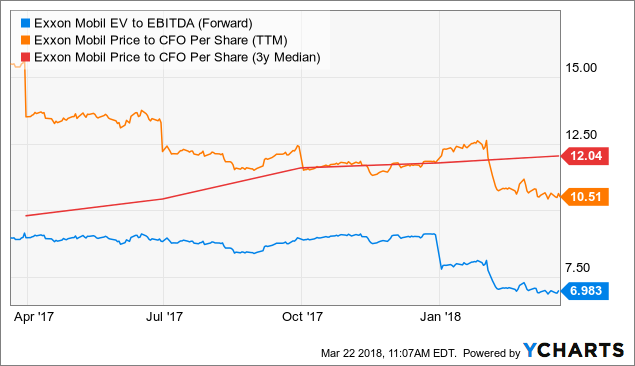 Exxon Mobil trades at a seven times EV to EBITDA multiple, which isn't an expensive valuation at all, and Exxon Mobil's price to cash flow multiple of 10.5 is well below the historic median of 12.
Bottom Line
Exxon Mobil is investing heavily into the future and has stopped focusing on buybacks for now. The market misses the immediate gratification of share repurchases and did not like the fact that it will take a while for the investments to play out. For long-term focused investors, this isn't bad news at all, though, as Exxon Mobil's investments are poised to increase profits and cash flows immensely.
Shares of Exxon Mobil offer a high dividend yield, and the last time the yield has been this high, Exxon Mobil's shares were a great investment. Shares of the oil major have also gotten significantly cheaper over the last couple of years, both on an absolute basis as well as relative to the peer group.
Overall, it looks like Exxon Mobil will be a solid investment over the coming years, providing strong income generation and production growth at an inexpensive valuation.
Author's note: If you enjoyed this article and would like to read more from me, you can hit the "Follow" button to get informed about new articles. I am always glad to see new followers!
Disclosure: I am/we are long RDS.A.
I wrote this article myself, and it expresses my own opinions. I am not receiving compensation for it (other than from Seeking Alpha). I have no business relationship with any company whose stock is mentioned in this article.
Related Posts: