Bank of America (BAC) shares have greatly outperformed the broader market since Mr. Donald J. Trump was elected to be President, as BAC shares have increased in value by 70% while the S&P 500 is up only 25%.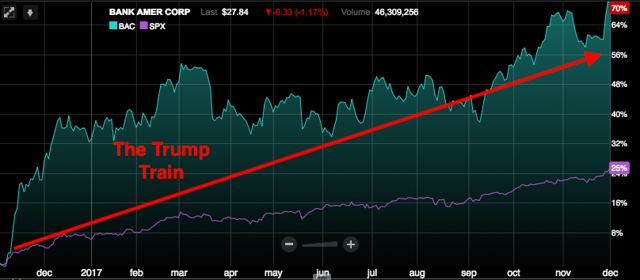 (Source: Nasdaq)
BAC shareholders have rode the Trump train to impressive gains since November 2016 but, in my opinion, this bank still has a great story to tell as we progress toward 2018. As such, I believe that investors should stay on the train, because BAC's long-term story is still intact and it is actually getting better with time.
Where Did We Come From? A Challenging Environment
Prior to 2016, BAC was viewed as the government's piggy bank, as the bank paid well-over $90B in legal fines and settlements related to pre-Financial Crisis wrongdoings. As a direct result, the bank's earnings fell off a cliff and investors jumped ship for greener pastures.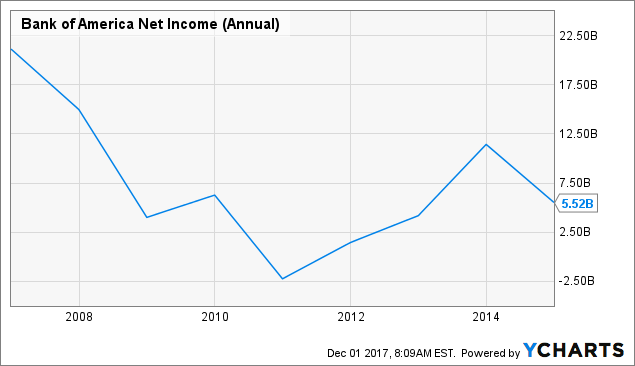 The bank, however, not only had to face rising legal expenses but it also had to contend with the headwinds that were caused by the low interest rate environment.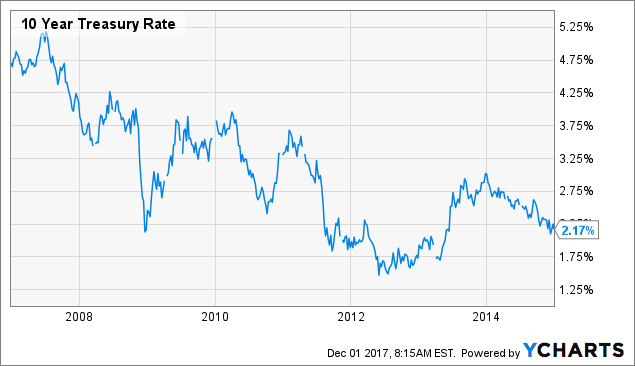 This bank could do no right in the eyes of most investors and, simply put, bearish sentiment wrecked havoc for BAC and its shareholders. It is, however, important to note that BAC was not the only bank that was punished during this period of time, as the three other large financial institutions – JPMorgan (JPM), Wells Fargo (WFC) and Citigroup (C) – also faced downward selling pressure.
On the other hand, a few short years ago, as described in this article, Mr. Brian Moynihan, CEO, started doing what was necessary to right the ship and the market finally realized that management's plans were bearing fruit. Therefore, sentiment for the once 'too-hot-to-hold' bank slowly started to turn positive.
The Bank's Latest Results Tell A Nice Story
On October 13, 2017, BAC reported better-than-expected Q3 2017 adjusted EPS of $0.48 on revenues of $21.8B, which compares favorably to what the bank reported in the same quarter of the prior year.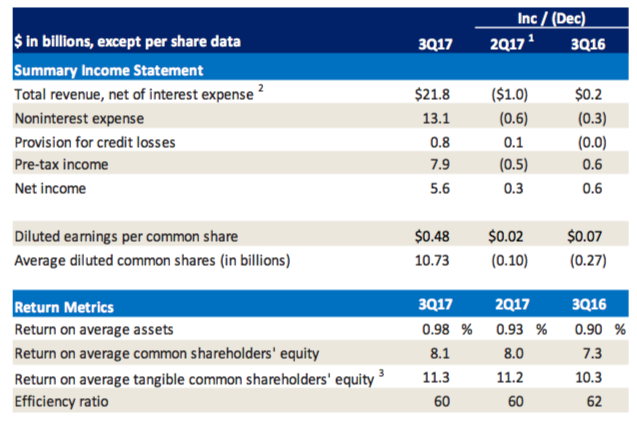 (Source: Q3 2017 Earnings Presentation)
The highlights from BAC's Q3 2017 results were the following:
Net income of $5.6B, which was a YoY increase of 13% (YTD net income was up 19% YoY).
Noninterest expenses were $13.1B, which was an improvement of 3% when compared to Q3 2016.
Average deposits were up 4% (or $45B) and average loans/leases were up 6% YoY.
Return on assets ("ROA") of 0.98%.
Additionally, each of the bank's business segments performed well over the most recent three-month period.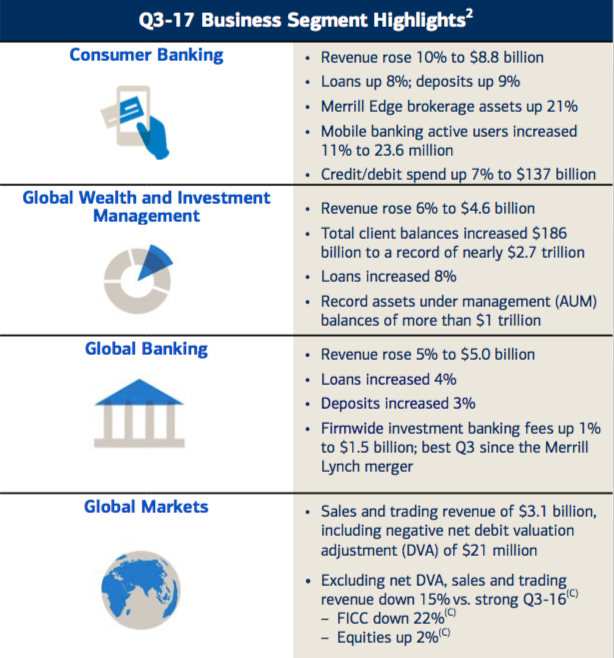 BAC's quarterly results were already well-covered on Seeking Alpha (see here), so I do not want to spend my time rehashing what you all already know. Instead, I want to focus on two very important takeaways from the Q3 2017 results.
First, BAC's below-average ROA has plagued this bank for years and it was actually one of the main talking points for the bears.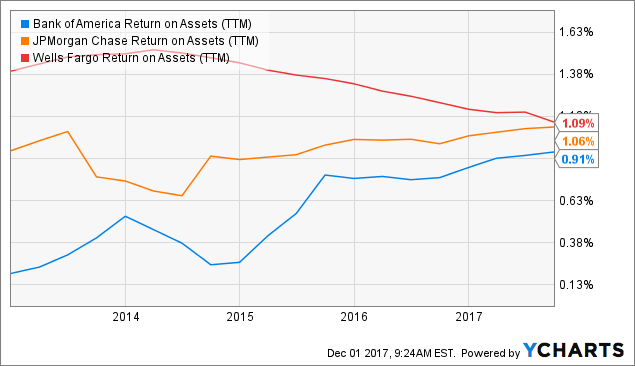 As shown, BAC's ROA – a metric that most analysts believe should be around 1 or higher – has lagged the peer group over the last five years. The benefits of management improving BAC's ROA are two-fold: (1) the bank is obviously earning more on its assets and (2) it improves investor sentiment in a major way. This is the reason why BAC's close to 1% ROA for the most recent quarter is so important. Looking ahead, investors should bake in expectations for this metric to continue to climb because, in my opinion, Mr. Monyihan and team have BAC well-positioned to prosper in the changing operating environment.
The other major takeaway from the quarterly results was just how sensitive BAC is to interest rates (a topic that is well-known by most BAC shareholders). To this point, BAC reported a $1B YoY increase, or ~10%, in net interest income ("NII") for the quarter.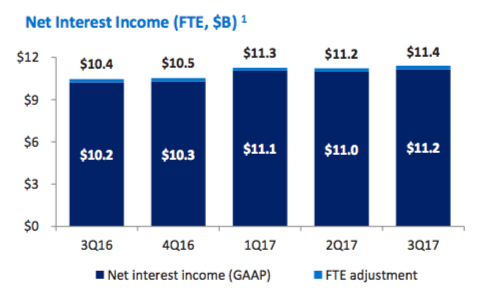 This may not seem like much but it is. More importantly, management expects for BAC to greatly benefit from gradual increases in interest rates as we head into 2018 and beyond. Currently, management expects that the bank would benefit by the tune of $3.2B in additional NII on "+100bps parallel shift in the interest rate yield curve, driven primarily by sensitivity to short-end interest rates".
BAC's Q3 2017 results showed that Mr. Moynihan has this bank well-positioned for the future, and investors should be encouraged by the prospects that the U.S. banks will soon be operating in a more-favorable environment.
Where Are We Going? An Improving Environment
On November 28, 2017, BAC shares finished the trading day up almost 3% as the market digested Mr. Jerome Powell's confirmation hearing to become the next Fed Chair. It was not only BAC shares that benefited from the hearing, as the financial sector finished up almost 3% on the same day.
The Powell hearing was, however, not the only positive news, as it has become more likely that the GOP may actually have the votes to push through a game-changing tax reform bill. In addition, the 10 year treasury has also been ticking higher over the last six months.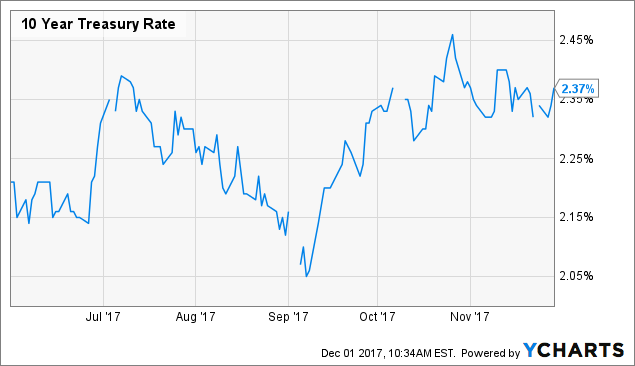 At the end of the day, BAC's operating environment has slowly started to improve over the last two plus years and, more recently, the bank's future growth prospects appear extremely promising from here. What used to hold BAC shares back (i.e. sentiment), is actually what has propelled the stock price higher so far in 2017. And, investors should not expect for this to change anytime soon.
Valuation
BAC shares are trading at an attractive valuation when compared to the bank's peer group.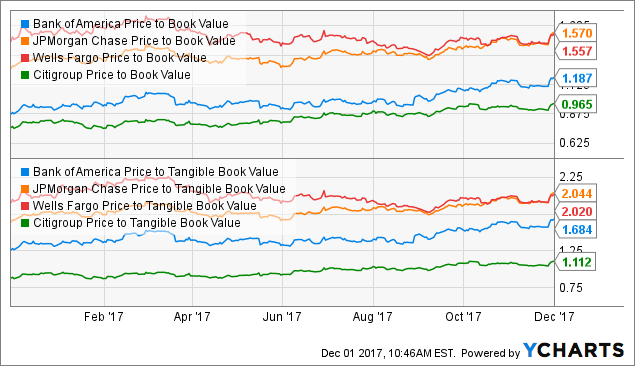 It is important to note that BAC's book value and T/BV were negatively impacted by the Berkshire (BRK.A) (BRK.B) stock conversion that occurred during the last quarter. If BAC shares were trading inline with JP Morgan (JPM) or Wells Fargo (WFC), the stock would be worth $34/share (upside potential of ~20%). Mr. Moynihan still has some work to do before BAC will be viewed in the same light as some of the bank's competitors, but, in my opinion, the bank is without a doubt heading in the right direction and it will likely warrant a similar type of valuation in the near future.
Bottom Line
BAC shares are still attractively valued at today's price, even after the run-up since November 2016. I believe that this bank has a lot more going for it than just the potential benefits of interest rate hikes, as deregulation and the opportunity to return capital to shareholders have both become more important components of my investment thesis. BAC's long-term story – an under-appreciated bank that is slowly gaining investor's trust back by improving its expense base and returning capital to shareholders – is still intact and, in my opinion, the future looks even brighter for this large financial institution as we approach 2018.
At the end of the day, I believe that BAC shares are a great investment at today's price so I would treat any pullbacks as long-term buying opportunities.
Full Disclosure: All images were taken from BAC's Q3 2017 Earnings Presentation, unless otherwise stated.
Author's Note: BAC (common stock and TARP warrants) is a core holding in my R.I.P. Portfolio, and I have no plans to reduce my stake in the next few weeks.
If you found this article to be informative and would like to hear more about this company, or any other company that I analyze, please consider hitting the "Follow" button above. Or, consider joining the Going Long With W.G. premium service to get exclusive content and one-on-one interaction with William J. Block, CPA, President and Chief Investment Officer of W.G. Investment Research LLC.
Disclaimer: This article is not a recommendation to buy or sell any stock mentioned. These are only my personal opinions. Every investor must do his/her own due diligence before making any investment decision.
Disclosure: I am/we are long BAC, C.
I wrote this article myself, and it expresses my own opinions. I am not receiving compensation for it (other than from Seeking Alpha). I have no business relationship with any company whose stock is mentioned in this article.