(All prices herein are in Canadian dollars.)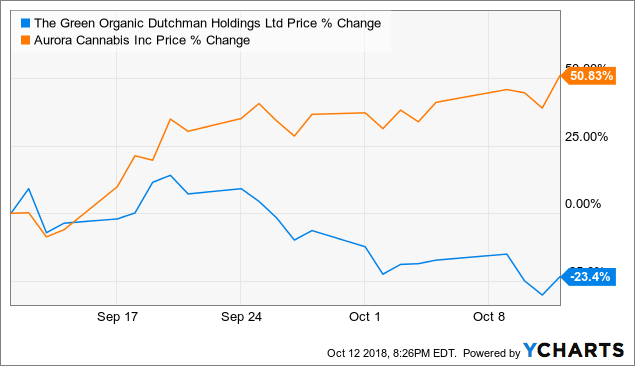 Executive Summary
Aurora Cannabis (OTCQX:ACBFF) made two investments in The Green Organic Dutchman (OTCQX:TGODF) ("TGOD") for a combined $78 million. As part of these investments, Aurora received the right to purchase 20% of TGOD's cannabis crops.
In addition, Aurora had the right to eventually take a majority stake in TGOD through a series of four "Milestone Options", where, when TGOD achieved certain milestones, Aurora would have the option to purchase 8-12% stakes in TGOD for a 10% discount to TGOD volume-weighted price.
The first Milestone Option was set to expire in late August, but Aurora and TGOD agreed to extend that option to October 12. Today, that option expired – Aurora declined to exercise the option and TGOD declined to extend it. As a result, Aurora has forfeited their future Milestone Options – TGOD will not become majority-owned by Aurora.
In my view, this is a negative outcome to TGOD. Aurora's investments into TGOD could have been seen as de-risking TGOD – insulating it from the fact that it won't have cannabis until ~mid-2019 (after initial shortages may have passed) and the fact that TGOD doesn't have any supply agreements.
With Aurora backing out of this deal, TGOD has been re-risked.
Initial Investment – $55 million
January 16, 2018: Aurora Cannabis invests $55 million into The Green Organic Dutchman.
"The Company is pleased to announce the closing of Aurora Cannabis Inc.'s strategic investment into TGOD. The investment consists of 33,333,334 Units, priced at $1.65 per Unit, for gross proceeds of $55 million."
Each unit in this context is one share of TGOD plus one-half warrant (C$3.00 price, expiring ~January 2021). As part of this investment, Aurora also gained the right to four "milestone options" in TGOD: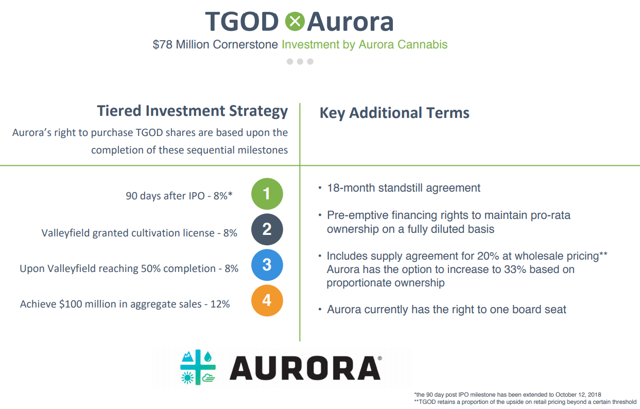 (TGOD Investor Presentation, September 2018)
IPO Triggers First Milestone; Aurora Invests $23 Million More
May 2, 2018: Aurora invested further in TGOD at TGOD's initial public offering in Spring 2018:
"Aurora Cannabis Inc., today announced the Company is participating in the IPO of The Green Organic Dutchman, purchasing 17.5% of the IPO issue, or 6.3 million units, priced at $3.65 per unit, for a total investment of $23.1 million. Each unit consists of one common share and one half of one common share purchase warrant exercisable at $7.00 per common share.

The investment follows an earlier strategic investment completed in January 2018, and upon completion, Aurora will hold a total of 39.7 million common shares. The Company furthermore owns 16.7 million share purchase warrants exercisable at $3.00, and will add a further 3.2 million share purchase warrants exercisable at $7.00 per share. This reflects an ownership interest of 17.6% on an undiluted basis. Aurora has an option to increase its ownership to over 50% in relation to TGOD achieving certain operational and financial milestones."
As quoted above, Aurora received a further 6.3 million shares for $23.1 million. Aurora also received 3.2 million warrants exercisable at $7.00/share.
In sum, Aurora invested $78 million in TGOD and received 39.7 million shares, 16.7 million warrants at $3 and 3.2 million warrants at $7.
Note that this investment was not using the milestone option – this was Aurora investing other money into TGOD's IPO. However, the IPO also triggered the first milestone option above. Under the deal, after 90 days, Aurora had 30 days (so, 120 days total) to exercise its option to purchase 8% of TGOD:
"Further to the Investor Rights Agreement between TGOD and Aurora, dated January 12, 2018, the first Milestone Option was triggered on August 2, 2018, 90 days after TGOD's initial public offering which closed on May 2, 2018. Under the Investor Rights Agreement, Aurora had 30 days to exercise the Milestone Option."
Valleyfield Cultivation License – Second Milestone Option Triggers
June 11, 2018: TGOD announces that its Valleyfield, Quebec facility has been granted a cultivation license from Health Canada:
"The Green Organic Dutchman Holdings Ltd. is pleased to announce that, effective June 8th, its wholly-owned subsidiary, Medican Organic Inc. has received its Cultivation License from Health Canada for the Company's breeding facility in Salaberry-de-Valleyfield, Quebec. The commissioning of this facility will allow the Company to create proprietary, organically grown strains of cannabis and cannabis seeds.

Located on a 72-acre property, the breeding building will house the cultivation of cannabis and the production of seeds and new strains. This building marks TGOD's first facility in Valleyfield, which will be followed by the addition of TGOD's flagship 820,000 square foot state-of-the-art hybrid grow facility, which, when complete, will bring TGOD's domestic production to 116,000 kgs of high-quality, premium organic cannabis annually. Construction of TGOD's hybrid facility commenced in early 2018, and to date, site-clearing and earthworks have been completed."
This would, presumably, trigger the second Aurora Milestone option – giving Aurora the right to purchase an additional 8% of TGOD.
Aurora Extends First Milestone Deadline
September 4, 2018: On September 4, Aurora Cannabis and TGOD announced an agreement to extend the first deadline for the milestone option to October 12, 2018:
"Under the Investor Rights Agreement, Aurora had 30 days to exercise the Milestone Option. The parties have agreed to extend the term, such that the Milestone Option will now expire on October 12, 2018.

'The Aurora partnership has been incredibly beneficial for both parties to date,' said Brian Athaide, TGOD's CEO. 'In addition to the organic supply agreement, the value of Aurora's initial investment has increased nearly five-fold. In turn, the assistance provided by the Aurora team has helped accelerate our progress across all divisions, and we look forward to continuing our strategic partnership as we work towards building the largest organic cannabis brand in the world,' continued Athaide."
Little commentary was given on why TGOD would agree to extend this deadline. However, I would infer that this extension was based on a belief from TGOD management that the company would be better off with Aurora on its side than without Aurora.
Aurora Declines To Exercise First Milestone Option
October 12, 2018: Friday, Aurora declined to exercise its first milestone option to purchase shares of TGOD and the deadline was not extended further. Instead, the option has expired.
"The Green Organic Dutchman Holdings Ltd. announces that the first milestone option (the 'Milestone Option') under the Investor Rights Agreement between TGOD and Aurora Cannabis Inc. has expired. The Milestone Option entitled Aurora to acquire an additional 8% of the common shares of the Company.

The milestone was achieved on August 2nd, 2018, three months after the Company's shares became listed on the TSX. The Milestone Option provided Aurora with the right to purchase 8% of the Company's shares (on a fully diluted basis) from treasury for cash at a 10% discount to the 10-day VWAP. Under the Agreement, the Milestone Option has now expired, and the Company has elected not to provide a further extension. In addition, pursuant to the terms of the Agreement, all remaining Milestone Options to acquire additional interests in the Company have expired."
As described in the press release, Aurora declined to exercise their option to purchase additional shares of TGOD. Further, TGOD declined to again extend the deadline. This also means all remaining Milestone Options have expired – Aurora no long has the right to purchase a majority stake in TGOD. However, Aurora still has the right to purchase 20% of TGOD's harvest once TGOD's cultivation facilities are complete.
TGOD's management's tone in their press release was interesting:
"'Aurora has been an incredible partner to date and both parties plan to continue the partnership. They invested $78.1 million into our Company and added tremendous value across multiple areas of collaboration, including the design and construction of our Canadian facilities,' said Brian Athaide, CEO of TGOD. 'Our recent $75 million bought deal financing ensures TGOD has the capital necessary to continue our international expansion at a rapid pace, extending sales and distribution to more channels throughout Europe and Latin America. While the Milestone Option has expired, many possibilities exist in the future for our two very complementary companies,' continued Athaide."
Thoughts
From the tone of the statement, TGOD sounds willing to continue to be friends with Aurora. However, Aurora is – apparently – not willing to invest more money into TGOD, even at a 10% discount to current prices. That is hardly a statement of great faith in TGOD from Aurora – perhaps a statement that Aurora management believes that TGOD is too expensive?
On the other hand, investing in 8% of TGOD would also be a substantial expense for Aurora – TGOD is not cheap.
By my calculations (from my October 9th coverage of TGOD on The Growth Operation), TGOD's market cap is ~$1.9 billion and their enterprise value is ~$1.6 billion. That puts TGOD as the sixth-most-costly Canadian cannabis company, even though TGOD has no provincial supply deals and will barely produce cannabis until ~Q2 or Q3/19 (based on a 1H/19 completion of their facility).
An 8% stake in TGOD – even given a 10% discount – would still be likely to set Aurora back ~$150 million (depending on whether that 8% includes dilution). Meanwhile, Aurora only had $90 million in cash and cash equivalents, as of June 30, 2018. Aurora would still get $150 million if they wanted to, though – Aurora has a $200 million line of credit with the Bank of Montreal (BMO).
Thus, it wouldn't be fair to suggest that Aurora couldn't pay for 8% of TGOD – they could find the money; they just chose not to.
Going Forward
What does this mean for each company?
For Aurora, I am not sure that this deal means much. Ultimately, Aurora has 570,000 kg/year of capacity including the 20% of TGOD capacity that Aurora has the right to purchase. Aurora's investments in TGOD has also been very profitable:
| | | | |
| --- | --- | --- | --- |
| | | Value | Cost |
| 39,700,000 | TGOD Shares | $234,230,000 | $78,100,000 |
| 16,666,667 | TGOD $3 Warrants | $78,000,000 | 0 |
| 3,150,000 | TGOD $7 Warrants | $10,000,000 | 0 |
| | Total | $322,230,000 | $78,100,000 |
(Author's estimates based on Black-Scholes model for warrants using 30-day rolling volatility of TGOD shares at $5.90/share and 2.5% risk-free rate)
In sum, Aurora is up ~$245 million on its investments in TGOD. Not bad, even if they don't want to purchase more shares.
For TGOD, I don't think this is good news. TGOD does not have any supply agreements. TGOD will not have significant cannabis production until ~mid-2019, which is also when a lot of other producers – who do have relationships with provincial distributors – will have a lot of production.
Recently, there have been a lot of warnings that Canadian cannabis supplies will be short early in legalization – today alone, there were warnings from Aphria (OTCQB:APHQF) and Canopy Growth (CGC). As a result, production capacity today is very valuable – you can sell everything you can grow. Production capacity in ~nine months? Probably a lot less valuable.
In my view, Aurora walking away from TGOD significantly increases the risk of an investment in TGOD. Previously, TGOD could be looked at as something akin to a contract grower to Aurora – or perhaps even a contract manufacturer of greenhouses who was likely to be absorbed into the larger entity down the line. That is no longer the case: Aurora has expressed disinterest in majority ownership of TGOD, even at a 10% discount.
Aurora's eventual purchase of a majority stake in TGOD could be interpreted as de-risking TGOD.
If that was the case, consider TGOD re-risked.

Members of The Growth Operation, my exclusive community, receive:
Exclusive access to my in-depth research articles on smaller cannabis companies.
Access to my Model Cannabis Portfolio.
Up-to-date news and updates on cannabis companies.
Access to my full, live portfolio.
This month only, membership is on sale. Prices are going to rise soon, so sign up for a free trial today. (If prices rise later, early members get grandfathered prices, forever.)
Disclosure: I am/we are long ACBFF, CGC, APHQF.
I wrote this article myself, and it expresses my own opinions. I am not receiving compensation for it (other than from Seeking Alpha). I have no business relationship with any company whose stock is mentioned in this article.
Editor's Note: This article discusses one or more securities that do not trade on a major U.S. exchange. Please be aware of the risks associated with these stocks.