Who knew that furniture could be so profitable? I'm not talking about selling furniture, I'm talking about being able to use furniture for free. The recent deal between Ashford Inc. (NYSEMKT:AINC) and Ashford Hospitality Trust (AHT) allows AHT to do just that. It is so compelling I almost feel like driving around the night before bulk trash pick-up and hoarding as much furniture as I can. Obviously, I'm exaggerating, but the recently signed Enhanced Return Funding Program Agreement between the two companies makes you wonder if there are other 'out of the box' ways to juice returns.
The stock price for Ashford Hospitality dropped 18% after the company reported 2Q results.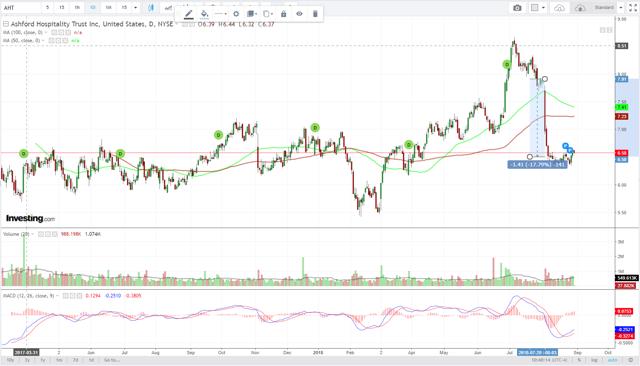 I poured over the earnings release and couldn't figure out why the stock declined so dramatically. Yes, the revenue numbers were lower than the same period last year but to drop 18% in one day? Something didn't make sense. I thought it might be this new agreement and that it was probably to the benefit of Ashford Inc. at the expense of Ashford Hospitality. Nope. The deal is a good one for both parties.
The ERFP Agreement
The agreement is a commitment from Ashford Inc. to invest $50M and up to $100M for properties acquired by AHT. The investments will equal 10% of the property acquisition price and will be made, either at the time of the acquisition or at any time in the following two years. Here's the interesting part: in exchange for furniture, fixtures, and equipment (FF&E) for use at the acquired property or any other property owned by the partnership, Ashford Inc. basically gives AHT the right to use the FF&E at any hotel leased by the REIT.
The way it helps AHT is by enabling it to put up less equity when making acquisitions and in some cases, make better offers that are more likely to win the bid. There is the danger that this could lead to overpaying of properties but management made a point on the press release that the agreement is to help make 'good deals great,' not overpaying for the sake of it.
The $50M 2-year commitment enables AHT to acquire up to $500M of "furnished' hotels and is expected to add anywhere from 700 to 1200 basis points to potential returns. Here is how that works: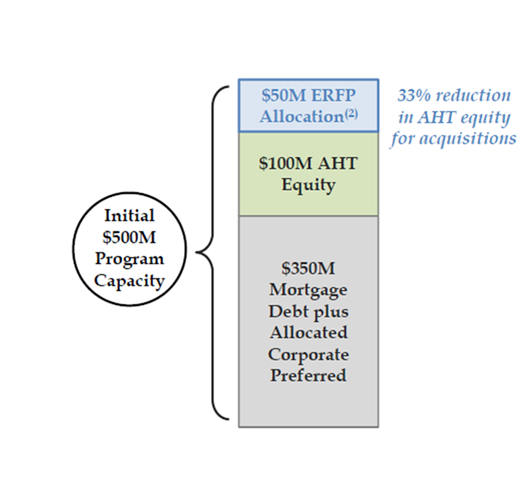 Using the full potential $50M potential investment, Ashford is able to acquire $500M of properties with just $100M of its own capital. The balance of $400M will be sourced with mortgage debt and corporate preferreds as well as the $50M from Ashford. That's a 33% reduction in the amount of equity required and certainly a competitive advantage in the bidding process.
Hilton Alexandria
The Hilton acquisition is a great example of how the program will work. Out of an acquisition price of $111M, Ashford is providing $11.1M from the ERFP funding agreement. The effect on the NOI cap rate for the acquisition is compelling, with an increase from 7.5% to 8.3%, resulting in a 62% increase in the 5-year IRR, from 18.2% to 29.5%. There are certain assumptions built into these figures such as the timing of the Ashford investment. The sooner the investment is made the higher the impact on ROI and IRR. The NOI increase assumes funding at the close of the transaction. The IRR calculation assumes funding one year later.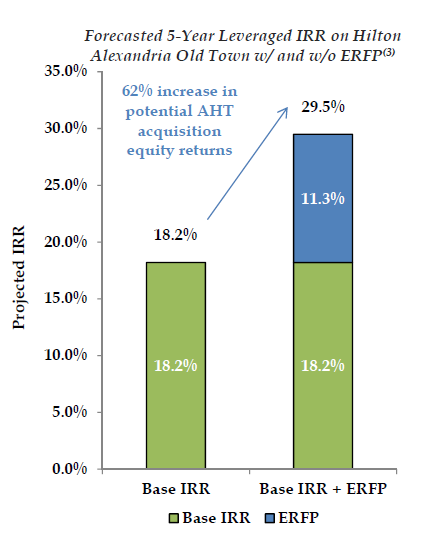 Either way, the agreement is compelling enough to give the stock considerable upside – if invested correctly. There are benefits to Ashford Inc. too, of course – namely, an increase in fees as a result of incremental hotel acquisitions.
Valuation
So even though the stock was cheap before, it is really cheap now. I think analysts have been slow to add any growth in revenues from what potentially could be a ramp-up in acquisitions. At a current P/AFFO multiple of just 7.1, AHT is arguably the best value play in the Lodging REIT sub-sector.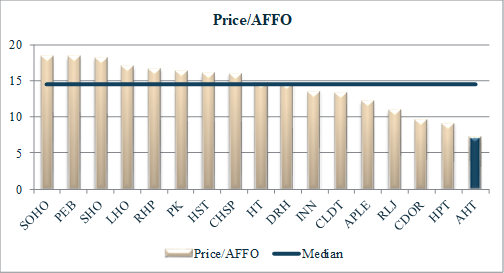 It also has the second-highest dividend yield among peers, which when combined with a payout ratio of just 51%, is likely to persist. Maybe, just maybe, we might even get a dividend boost too.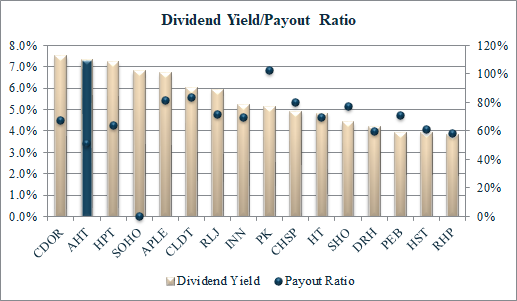 If you liked this article, don't forget to click on the "Follow" button at the top of the page.
To read more of my articles on Seeking Alpha, click here
Recent Posts in REITs, Opportunities & Income
Ventas: 10% Upside And 5% Dividend Yield
Alert: HCP Drops Below Buy Price Target But Wait A Bit Longer
Realty Income's Growing Nut To Crack
Disclaimer: Please note, this article is meant to identify an idea for further research and analysis and should not be taken as a recommendation to invest. It is intended only to provide information to interested parties. Readers should carefully consider their own investment objectives, risk tolerance, time horizon, tax situation, liquidity needs, and concentration levels, or contact their advisor to determine if any ideas presented here are appropriate for their unique circumstances.
Past performance is not an indicator of future performance.
Investing in any security has risks and readers should ensure they understand these risks before investing.
Real Estate Investment Trusts are subject to decreases in value, adverse economic conditions, overbuilding, competition, fluctuations in rental income, and fluctuations in property taxes and operating expenses.
This post is illustrative and educational and is not a specific offer of products or services.
Information on this blog is not an offer to buy or sell, or a solicitation of any offer to buy or sell the securities mentioned herein, nor is the author compensated by any of the products mentioned.
Information presented is believed to be factual and up-to-date, but we do not guarantee its accuracy and it should not be regarded as a complete analysis of the topics or subjects discussed.
Information presented is not believed to be exhaustive nor are all the risks associated with the topic of each article explicitly mentioned. Readers are cautioned to perform their own analysis or seek the advice of their financial advisor before making any investment decisions based on this information.
Investment decisions should be based on an individual's own goals, time horizon, and tolerance for risk. Nothing in this content should be considered to be legal or tax advice and you are encouraged to consult your own lawyer, accountant, or other advisor before making any financial decision.
All expressions of opinion reflect the judgment of the author, which does not assume any duty to update any of the information
Any positive comments made by others should not be construed as an endorsement of the author's abilities to act as an investment advisor.

REITs, Opportunities, & Income (ROI): High potential ROI investment ideas for your portfolio
While much of our coverage is focused on REITs, we also provide in-depth research on little known small-caps, macroeconomic analysis, and income opportunities. I also share details on a concentrated REIT portfolio designed to outperform the MSCI US REIT Index with lower volatility. Start a free trial now.
Disclosure: I am/we are long AHT.
I wrote this article myself, and it expresses my own opinions. I am not receiving compensation for it (other than from Seeking Alpha). I have no business relationship with any company whose stock is mentioned in this article.
Related Posts: