Congratulations are in order for technology giant Apple (AAPL), which earlier this month was finally able to end its WWDC losing streak. Even though shares underperformed US markets in general, they finished higher during the conference really for the first time this century (when excluding pre-split week). Even with shares entering this time near all-time highs, investors apparently liked what they saw from the company. Now we get to see how much Apple puts on its plate for the rest of 2018.
I won't go through all of the stuff released at WWDC, as you can get quite an extensive overview right here. I believe that walkie-talkie will be a big hit for the Apple Watch, improvement in ARKit is nice for the future, and FaceTime group chat will likely be nice for business. It's also nice to see a major performance improvement for iOS 12, with apps, the camera, and keyboard opening much faster for older devices.
WWDC unveils the software packages that will power the next generation of Apple devices, many of which we'll see later this year. At this moment, the iPhone is the biggest driver of revenues, so let's focus on it first. There continue to be questions about whether the company will launch a new version of the SE, for those looking for a smaller screen and/or lower price point. With those who bought the SE when it first came out likely able to upgrade now after 2-year contracts have matured, it would be nice to see a new SE.
However, the biggest part of the iPhone lineup will be its larger screen devices, some of which could be previewed in the graphic below. Most expectations call for two OLED devices to be launched this year along with one LCD phone. I just hope Apple doesn't get too crazy with its pricing, after getting a huge boost to ASPs last year. Delivering solid upgrades in the range of Apple's current price points would likely lead to increased unit sales, especially if the iPhone 6 crowd finally decides to upgrade in a big way.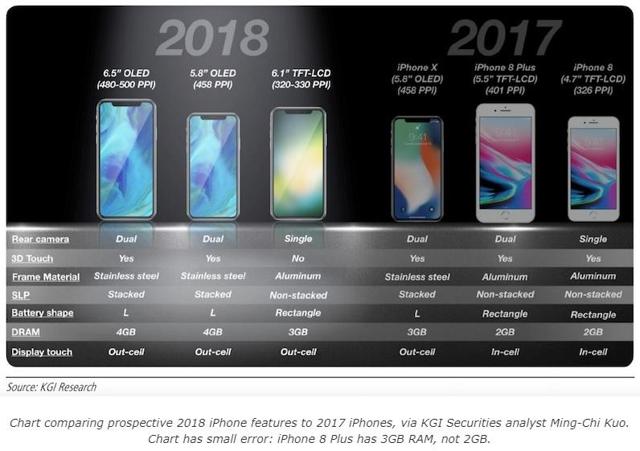 (Source: MacRumors 2018 iPhone roundup)
If we look at some of the rumors out there, perhaps the one I am most intrigued by is a cheaper version of the MacBook Air. Apple is expected to launch new Macs this year, but usually its PC line is quite expensive. Should the company move down ladder, perhaps as low as a $799 entry price, it could really drive demand and send Mac sales to a new level. While it is possible we could see a launch aimed at the holiday season, a product release in July/August aimed at back to school would likely be a major hit. So far through the first half of the fiscal year, Mac unit sales are down 4% according to page 23 of the most recent 10-Q filing, the worst performance of Apple's three main product lines. Hitting a lower price point would be a shot across the bows of Microsoft (MSFT) and Google (GOOG) (GOOGL), which have beaten Apple in the education space quite often in recent years.
Just like the iPhone SE, Apple also needs to decide what to do with the low end of its tablet lineup. The iPad mini hasn't been updated in nearly three years, so it is either time for a new version or for it to be discontinued. If Apple could deliver iPad Pro performance at the iPad mini price point, it would be a major hit. Perhaps that will be part of the move this year, as Apple is expected to launch new iPad Pro models, like the one potentially pictured below, that feature FaceID. Apple launched iPad Pro models in June 2017, but we haven't gotten new versions this June, so I'm guessing a fall launch could be in store.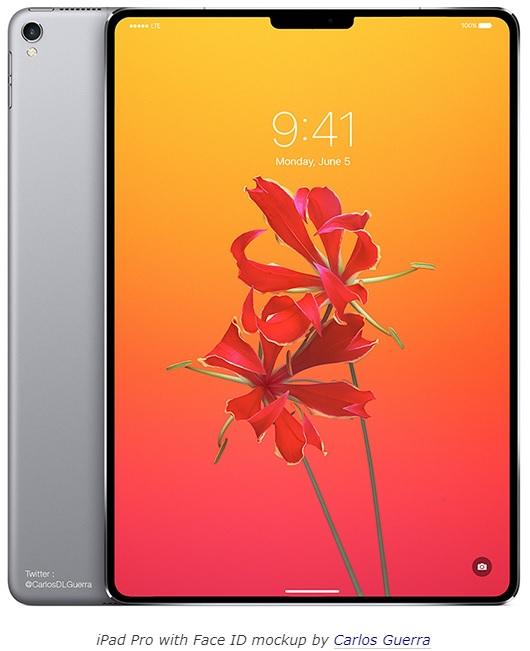 (Source: MacRumors iPad Pro 2018 roundup)
Just launching new products in the three main lines for Apple would likely be enough to satisfy most consumers, but we could see even more than that this year. There are expectations out there for a new version of the Watch with a much larger screen, helping to combat Fitbit's (FIT) smartwatch ambitions and the expected launch of Google's rumored Pixel Watch. I'm curious to see if we'll see a new version of Apple's extremely popular AirPods, perhaps one that will feature a case compatible with the AirPower charging mat coming to market at some point. Improved battery life in the Watch and AirPods could take sales to the next level, beyond the major successes that they already are.
It will definitely be interesting to see the timing of all these potential launches, especially for those like me that are closely watching Apple's financials. Last year's staggered iPhone launch pushed revenues out of the September period a bit, but there are some believing this year's iPhone lineup will be released all at once. That could push billions in sales forward a bit, which might potentially lead to a quarterly decline in the December quarter from last year's record period. Still, Apple will likely deliver tremendous revenues and profits, with earnings per share rising strongly thanks to the US tax cuts and the massive buyback program.
In the end, 2018 could turn out to be the biggest product launch cycle in Apple period. Beyond the likely annual upgrades of certain iPhone, Mac, and iPad lines, we could finally see the company launch new versions of its smaller screen devices that are quite dated. Hopefully, Apple will deliver its usually great price products at reasonable price points, as moving down the price ladder in certain areas can massively increase demand. With revenues and earnings per share heading to new all-time highs, Apple shares are just a stone's throw away from having a trillion dollar market cap.
Disclosure: I/we have no positions in any stocks mentioned, and no plans to initiate any positions within the next 72 hours.
I wrote this article myself, and it expresses my own opinions. I am not receiving compensation for it (other than from Seeking Alpha). I have no business relationship with any company whose stock is mentioned in this article.
Additional disclosure: Investors are always reminded that before making any investment, you should do your own proper due diligence on any name directly or indirectly mentioned in this article. Investors should also consider seeking advice from a broker or financial adviser before making any investment decisions. Any material in this article should be considered general information, and not relied on as a formal investment recommendation.
Related Posts: